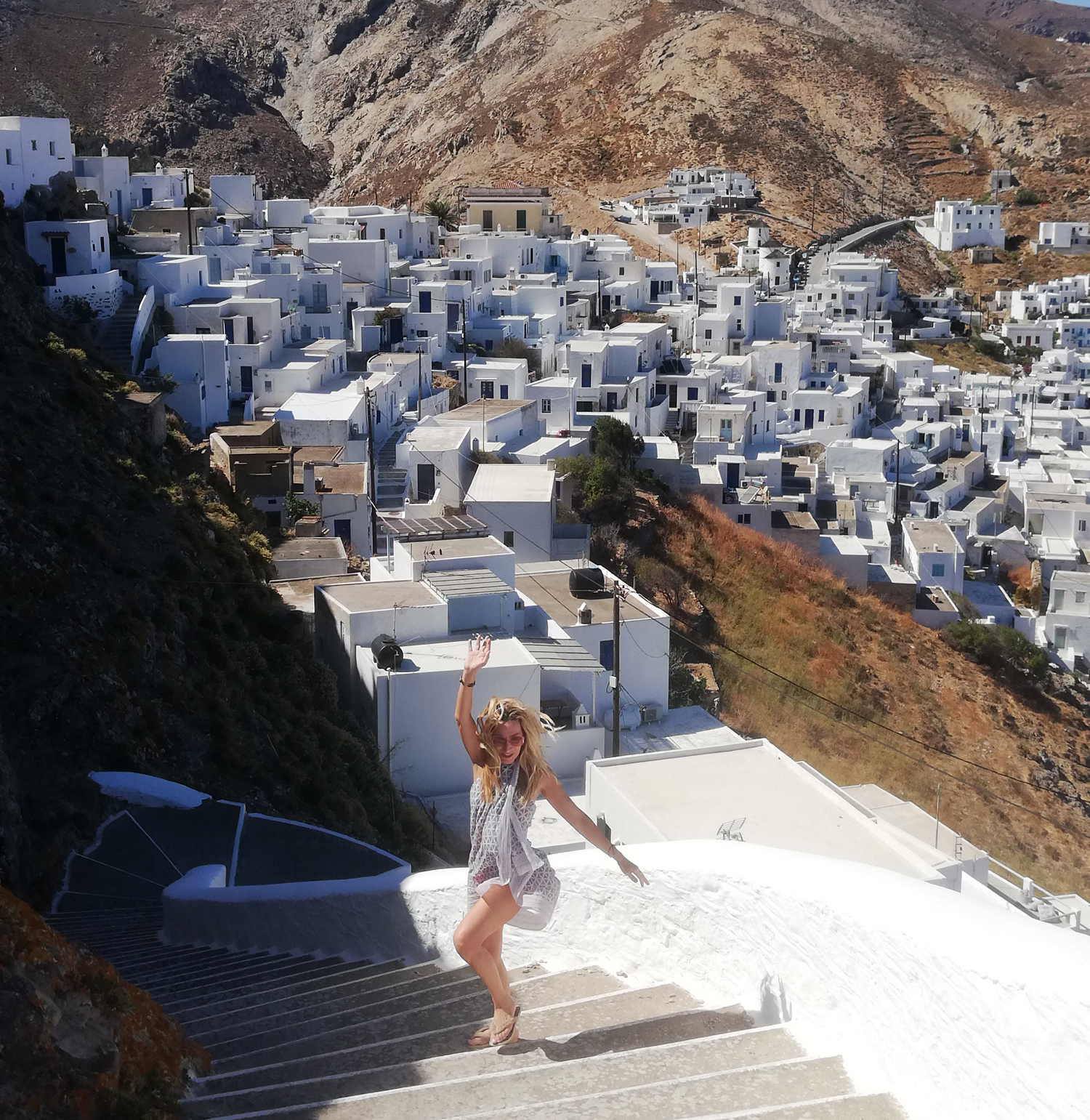 A lovely island indeed!
Serifos is one of those less sexy islands that never come to mind when one contemplates a fun holiday. What a misconception! We chose to go there to wrap up Summer '22 and it was an utter delight.

Getting there
You can get the fast boat from Piraeus and be in Serifos in a little over two hours. This will set you back around 200 each way, if travelling with a car. Alternatively you can get the slower boat, double the time and (maybe?) halve the cost. Either way, it is one of the best getaway options within the 2-hour radius.

Accommodation
Kalami Suites is a new, upscale complex of 11 rooms, built around a Mediterranean garden. Located at Livadi (the port area) at walking distance from all the action, it blends seamlessly with the traditional Cycladic surroundings, while having a positively modern aura. We booked the Jacuzzi Suite, an upper level room with a balcony featuring a hot tub with views to Chora (the capital). Attention to detail seems to be the guiding principle of this hotel (special mention to its super cute breakfast baskets!) which is best value in every possible way.
The Vibe
(Important note) We visited in September, which tends to be less busy and uncharacteristic when it comes to Greek islands. It also operates as a beautifying filter of sorts (I believe it will be rather frantic here in August). That said, it appears that Serifos is an introvert, unwilling to ride the gentrification train. The island emits an aura of privacy, as if meant solely for the enjoyment of those in the know (locals, home owners & their friends), while remaining amicable to the outsider. Serifos is not trying to be hip or cool, in fact it is not trying to be anything other than itself - which automatically renders it super cool. Stylistically it feels like a collage of references and there seems to be room for everyone here. Which is great.
The Beaches
The beaches of Serifos are first of all plentiful: 72 of them to be exact. Apart from the major ones, easily accessible by car / boat, the island's coastline is adorned with enchanting bay formations; they tend to be on the freestyle side (no sun beds, beach bars etc. and you have to work to get there but it is guaranteed to be rewarding). Viewed from above, the waters of Serifos resemble a colour wheel depicting the various shades of blue. We visited Ganema (a treat to have it almost exclusively to ourselves), Psili Ammos (voted Europe's best beach in 2003 ) and Vagia (early enough to snatch one of the few sun bed sets) and drove around the island for a visual tour of the rest of them.
Food & Drink
The action happens in 2 places simultaneously: Livadi and Chora; either one is good and where you end up largely depends on where you are staying. Just make sure to visit both. Food-wise it wasn't a revelation. We had agreeable meals at Chill & Co., Kalis and Blue Bamboo and a less pleasant experience at Axinos. Walking around, one can evaluate places on the spot. Bar-wise we tried the famous Vatrahos and the lovely Barbarossa (and liked them both) in Chora but wrapped up all our evenings at the Yacht Club at Livadi.
What to Do
Drive around to explore the beaches. Walk from Αno to Kato Chora, end to end, and uncover gazillion picturesque corners (aka instagramable spots) popping up here and there. Explore the little shops and find handmade and artisanal everything. Watch the sun set at Chora and the moon rise from the sea at Livadi. Visit the legendary Yacht Club any time you happen to walk past it, day or night. Love it all.
The Verdict
Serifos was unexpectedly interesting. Despite the long weekend we left with a sense that it merited more time. At only 2 hours from Athens, it is an excellent choice for a quick getaway (or a longer one for that matter) and September is totally recommended. As far as I am concerned, at some point, we will return for the rest.
Enjoy more Serifos moments below ⇩.