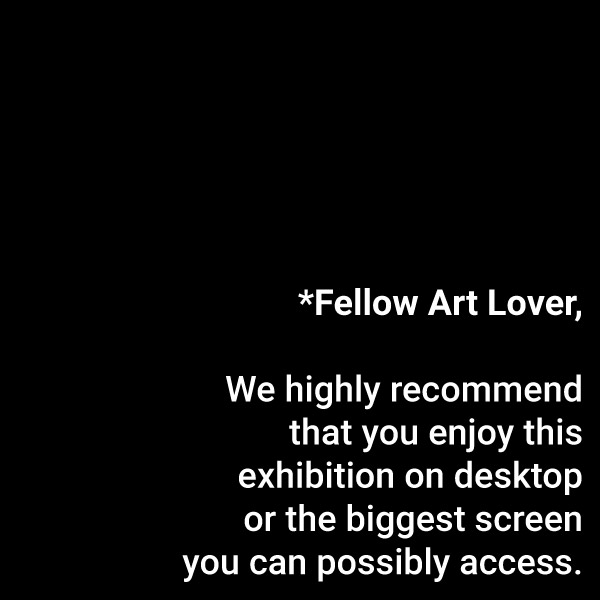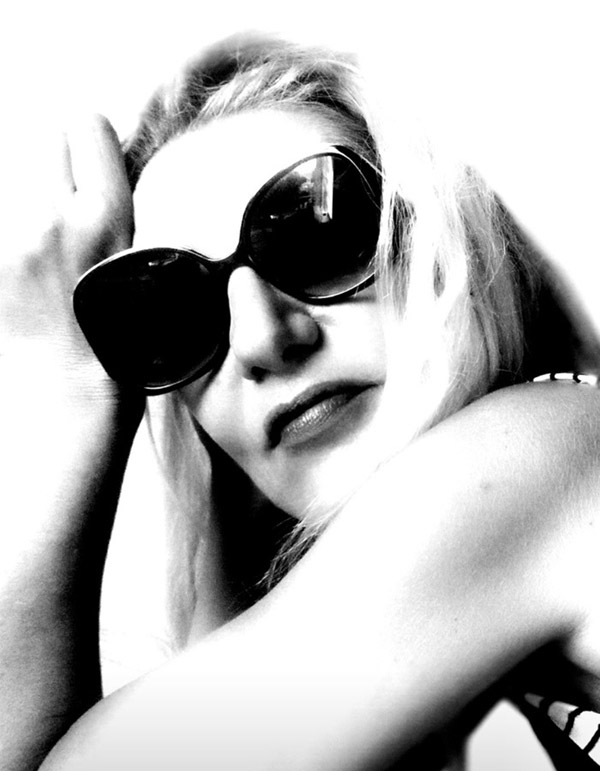 ART LOVER – Works from the AK Collection
I have been collecting art since my student years and – as anyone who indulges in the "sport" can verify – it is an enterprise with no end. Some of the art in my collection I have bought independently, some comes from my various collaborations, a lot has been gifted to me by artists (one of the perks of being an art professional) and some has found me through other channels. All of it is special to me and I have come to a point where I feel the need to share it with the world; for you to discover and enjoy the works but also to offer an insight on my private relationship with art, which essentially informs every aspect of my professional persona. For this debut introduction I am presenting select artworks, indicative of the collection's spirit. This is neither a "best of" nor "my very favourites"; what you see is dictated solely by my curatorial perspective and I must admit this exercise gave me intense pleasure.
Alexandra Kollaros
This one simply has to be the show's opener: my portrait by Constantine Vraziotis. It is obviously a very abstract interpretation, executed in CV's unmistakable, signature style. His gold-leaf series is the one that rendered him a darling of the fashionable clan, and it is the same style that has been exhibited and loved across the world.
I admit this is one of my most beloved pieces.
Alexandra Kollaros portrait
Constantine Vraziotis
Acrylics & gold leaf on canvas
50 x 40 cm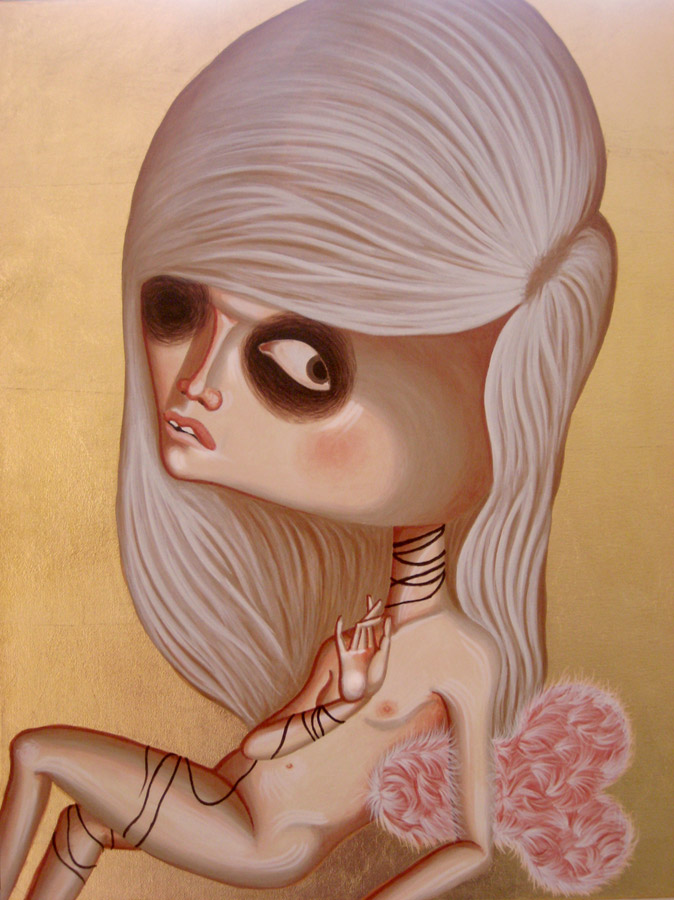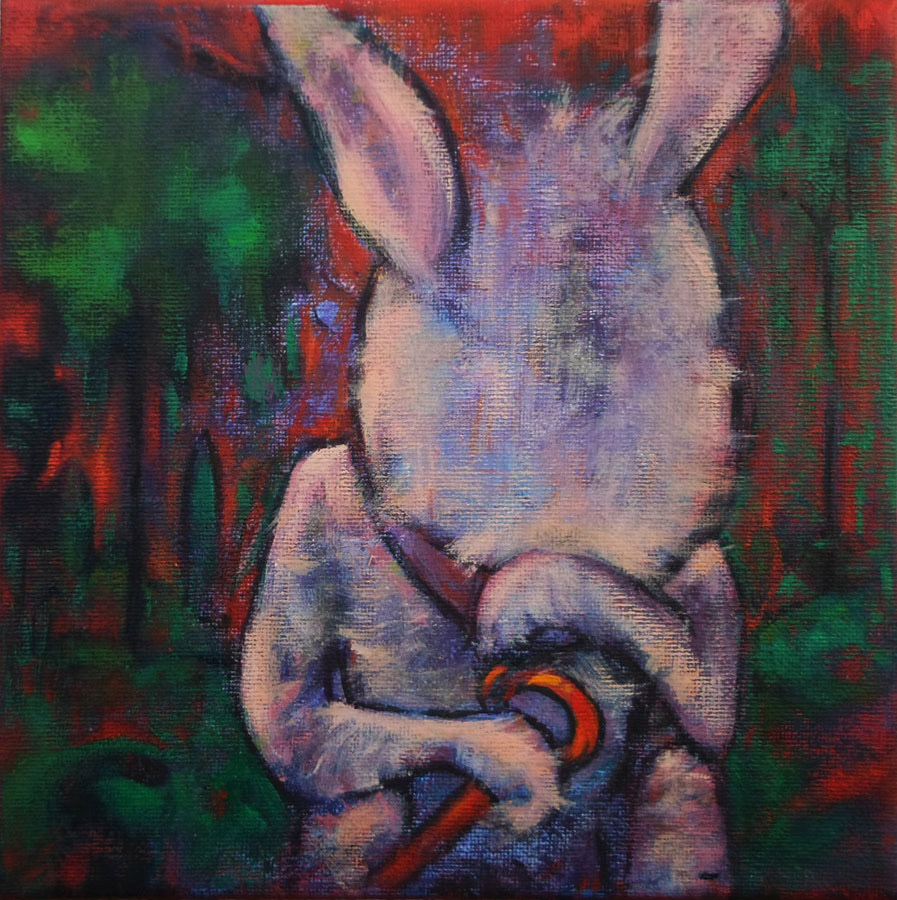 My Key
Alexandros Dimitriadis
Acrylics on canvas
20 x 20 cm
I bought this one at the SURPRISE 6 exhibition we organised for the support of the Athens homeless. These shows featured excellent artworks, generously offered by the wonderful artists to support the cause. Alexandros Dimitriadis' characters inhabit a space between reality and fantasy. This one was love at first sight: I adore bunny-rabbits, I am crazy about Alice in Wonderland and the fragile humanity this artwork exudes captivates me. This little painting had my name with neon flashlights on it.
Another prized belonging: The iconic Paris Hilton portrait from Jonathan Yeo's 'Blue Period', where he created images using clippings from pornographic magazines. (Little known fact: The original painting was bought by Damien Hirst.) The print was released as an unsigned edition and very few were signed by the artist on a casual basis. Mine is not just signed but also dedicated to me and is a gift from Jonathan, following a studio visit. In the meantime he has become the world's leading portraitist.
Paris
Jonathan Yeo
Offset colour lithograph
71 × 54.5 cm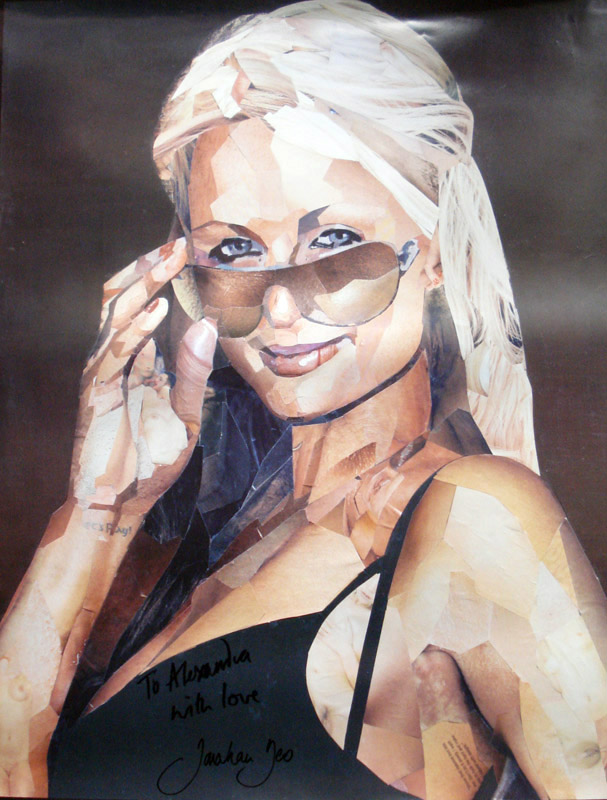 People tend to think of art as an investment but in truth (if this is what you are after) art is one of the worst investments out there. The return is hardly ever guaranteed and, even if it comes, 95% of the time it will be slow and insignificant. Unless you are prepared to play hardball, art makes zero sense as an investment strategy; you are better of trying (literally any) one of the more traditional methods. The only good enough reason to buy art is because you love it and if it happens to rise in value, all the better.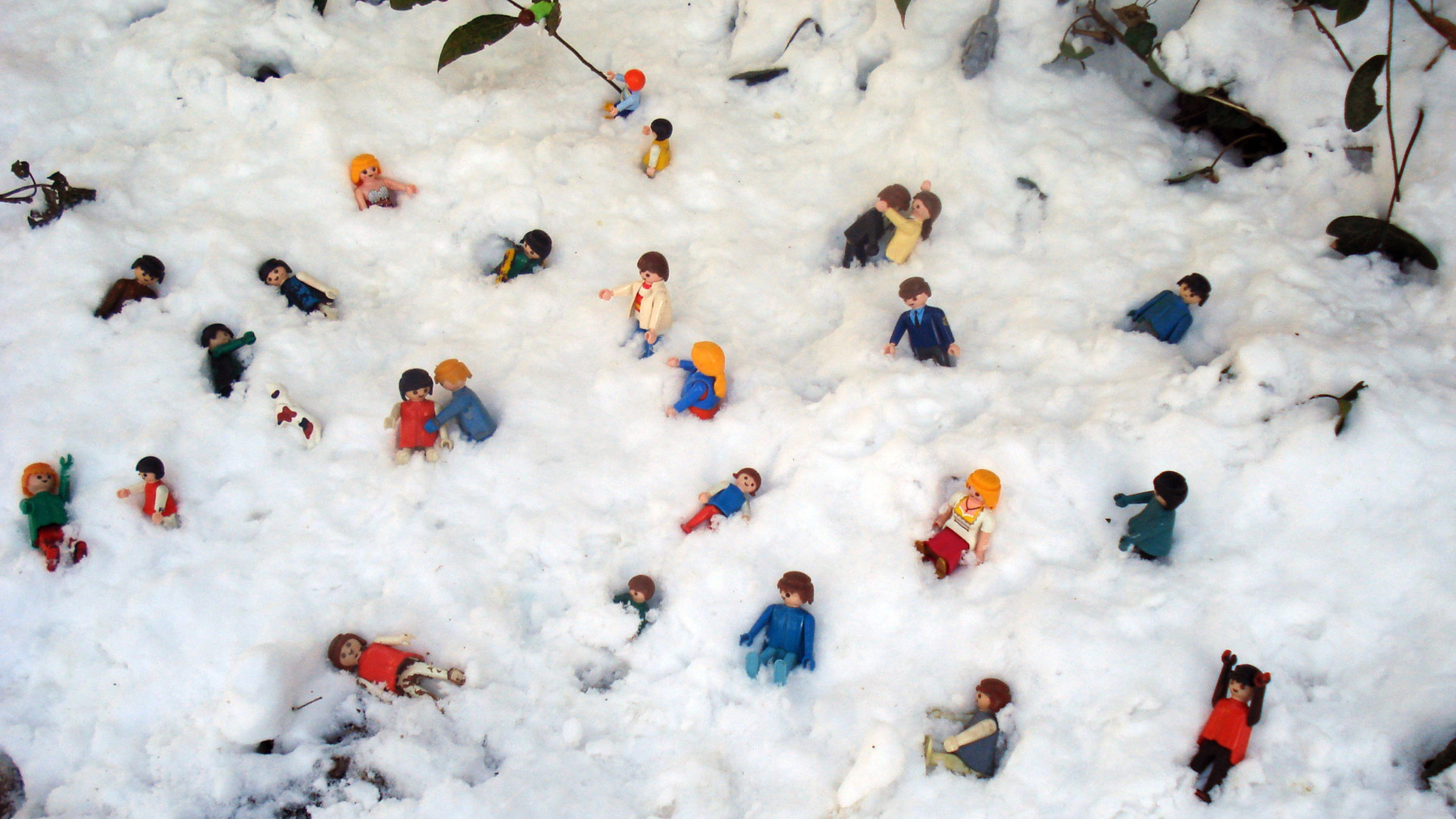 Force Majeure (detail) – Alexandra Kollaros, The Playmobil series, Photograph, 75 x 100 cm, Edition of 5.
This is from my own series of Playmobil artworks. I went through a period of obsessive engagement with the tiny figurines, staging and reenacting lifelike scenarios, both mundane and catastrophic – the common denominator being the persistent element of kink. This one has been staged and shot a couple of decades ago, during a rare occurrence of heavy snow, at the Pedion tou Areos public park. It transpires that the famous toys have been used time and again, by various artists, as artwork protagonists – I wasn't aware of it at the time but it hasn't averted me from resorting to them, to this day, for my artistic experiments: there is something soothingly familiar about them.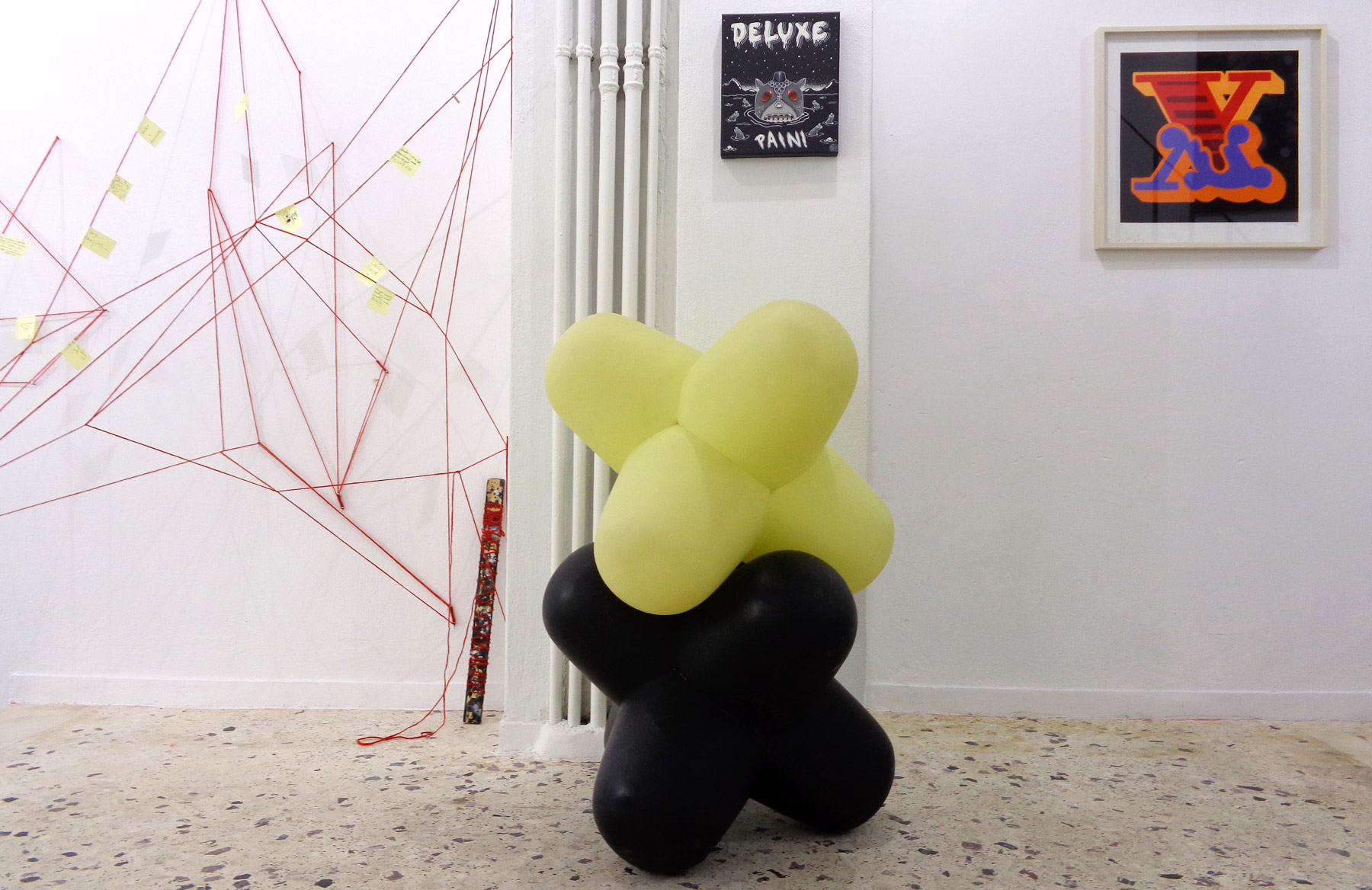 Jack Light (phosphorescent)  & Black Jack –  Tom Dixon, Low-density rotary-moulded polyethylene, 63 x 63 x 53 cm | X – Ben Eine, Screenprint on Somerset Satin 300gsm paper, 55 x 57 cm, Edition of 125
A duo of first era Tom Dixon Jack lights (made by Eurolounge, 1997): a phosphorescent and the super-limited edition Black Jack. Described as a 'sitting, stacking, lighting thing' this multi-purpose design took the 90s by storm. I was representing Tom Dixon in Greece at the time and had immediate access to the beauties he created. On their right, the "X" letterpress print, from the notorious alphabet series by Ben Eine.
"I believe art belongs to everyone."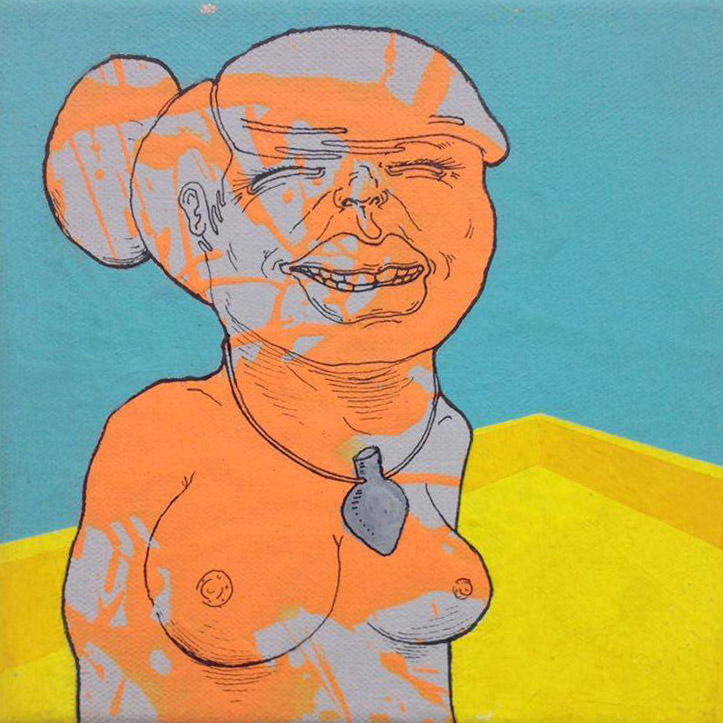 Untitled (Erotic series)
Carlos Echeverria Kossak
Acrylic & ink on canvas
15 x 15 cm
This little masterpiece comes from the SURPRISE Quito exhibition – a benefit event under the SURPRISE umbrella, presented in the Ecuadorian capital in 2016. Ecuadorian-Polish Carlos Echeverria Kossak is one of Latin America's most interesting artists and I am happy he is represented in my collection.
I bought this one at the 2016 Slade summer show while Minyoung Choi was still a student. Her work instantly captured me and I was delighted to see Choi immediately proceeding with making a name for herself. I believe she has a very bright future ahead of her. It never gets old, betting on an artist at the get go and being proved right.
Untitled
Minyoung Choi
Print
30 × 30 cm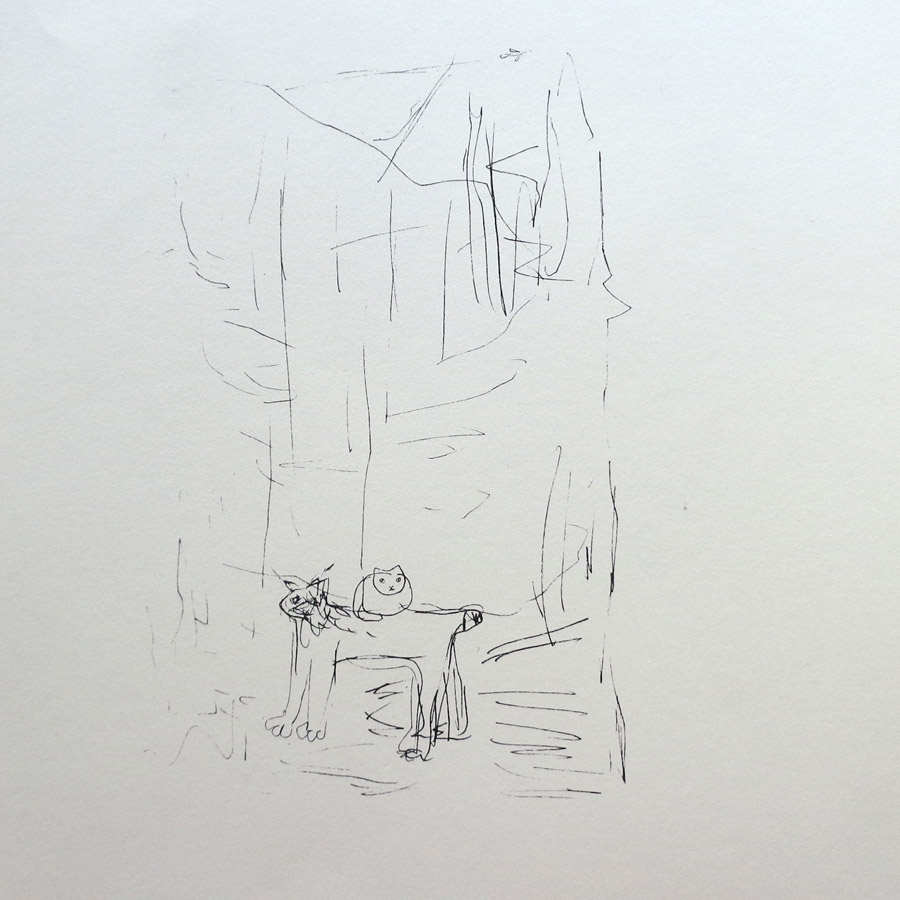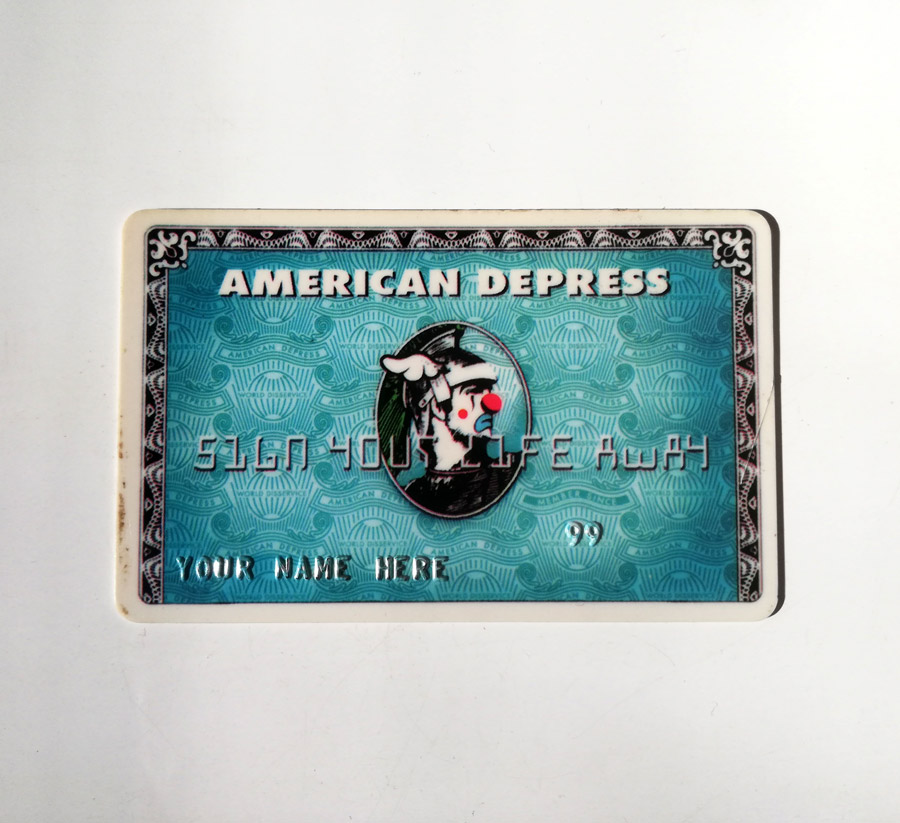 American Depress
D*FACE
Screenprint on plastic
5.7 × 8.1 cm
Sometimes the most precious things are not necessarily the most expensive. This is the case with American Depress, a credit card-format micro artwork, originally distributed for free as an exhibition promotional. But I wasn't at that exhibition. And I frantically tried to get my hands on one for a while. Eventually I managed to snap it at auction; and proceeded with accidentally damaging it with a Stanley knife. It remains one of my dearest pieces nonetheless.
"I have a keen interest in Prints – a wonderful and highly misunderstood genre. My advice to anyone who wants to start a collection but doesn't know how, is to start there."

STMNM – Vassilis Georgiou (Curated by Vassilis Kotsikas & Printed by Keda Press), 3-colour Risograph print, 37,5 x 13,5 cm. Looks innocent but only if you don't speak Greek!
Artworks that are especially dedicated to me are rendered more special indeed and this is exactly the case with this small painting by Vassilis Karouk. An esteemed artist and dear friend, he honoured with this early example of his experiments with bold colour abstractions.
Untitled
Vassilis Karouk
Oil on canvas
20 × 20 cm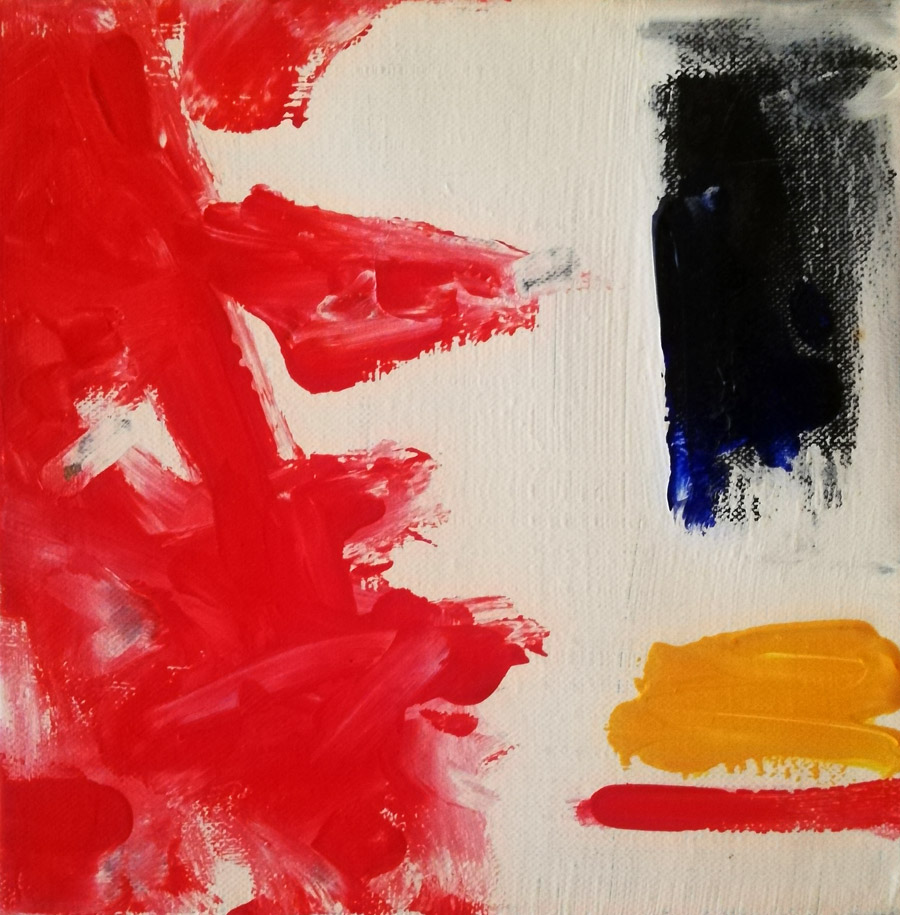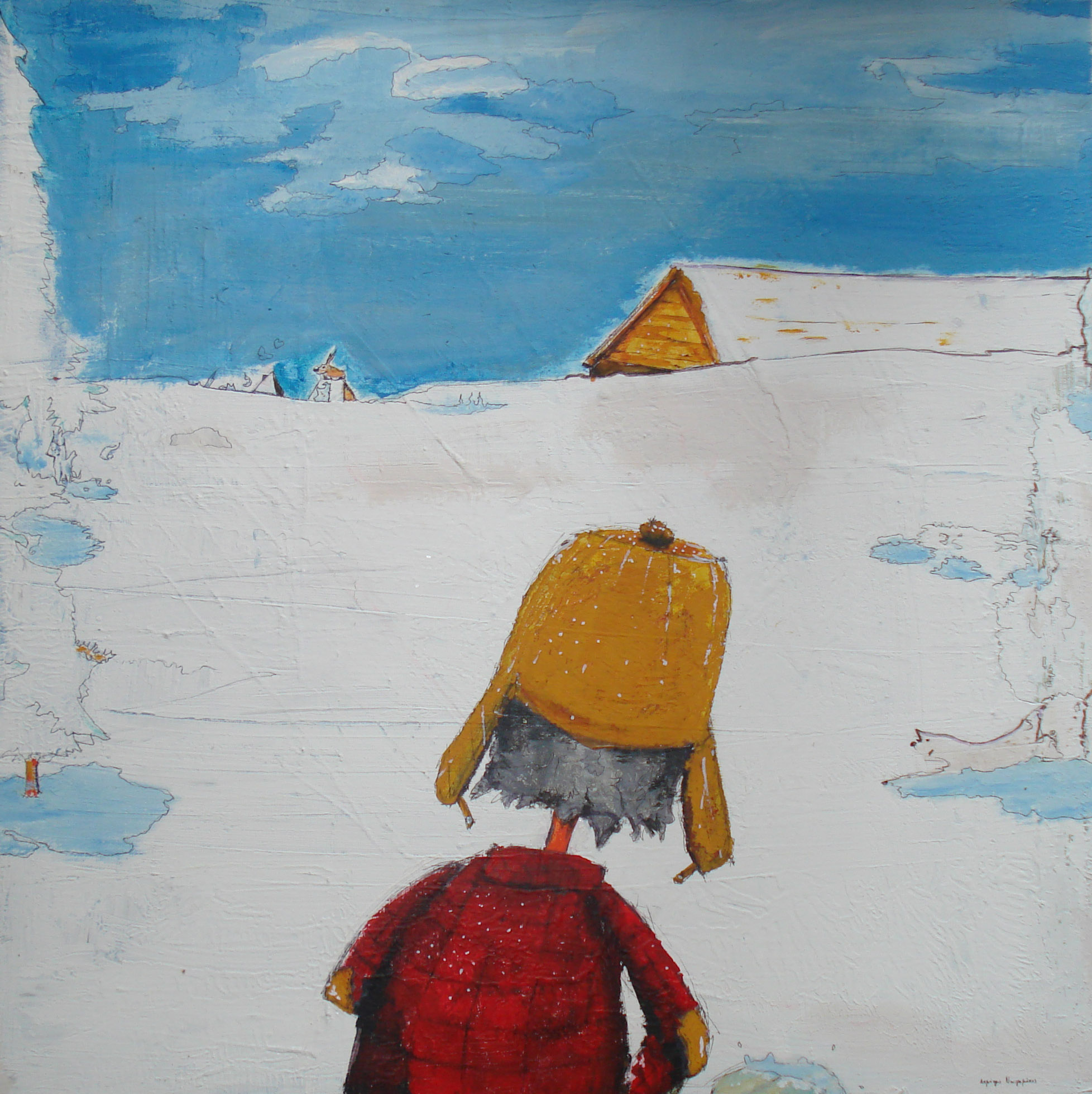 Untitled
Dimitris Douramakos
Acrylics & ink on canvas
60 × 60 cm
This painting comes from Dimitris Douramakos first solo exhibition "Life as a chicken and the mystery professor Mortys-e", back in 2006. I had mediated to make the show happen – the artist had been referred to me by a common friend and (contrary to the standard occurrence) his work turned out to be especially interesting indeed. We took it from there and this painting is a fond reminder of the collaboration. Since then his style has evolved to new directions but I always cherish this fresh, early piece.
Another diamond of the collection: This one, bought at the SURPRISE Junior exhibition we organised for the support of the Greek homeless, has been drawn by a student of the Moraitis School kindergarten. Can it get any more precious?
Friendship Is…
Moraitis School Kindergarten student
Pencil & marker on canvas
10 × 15 cm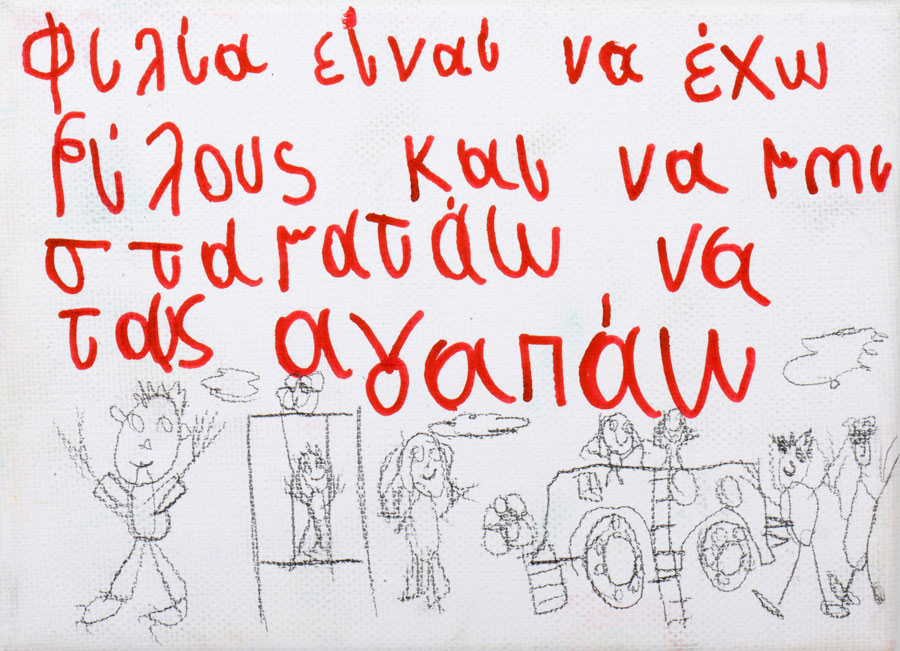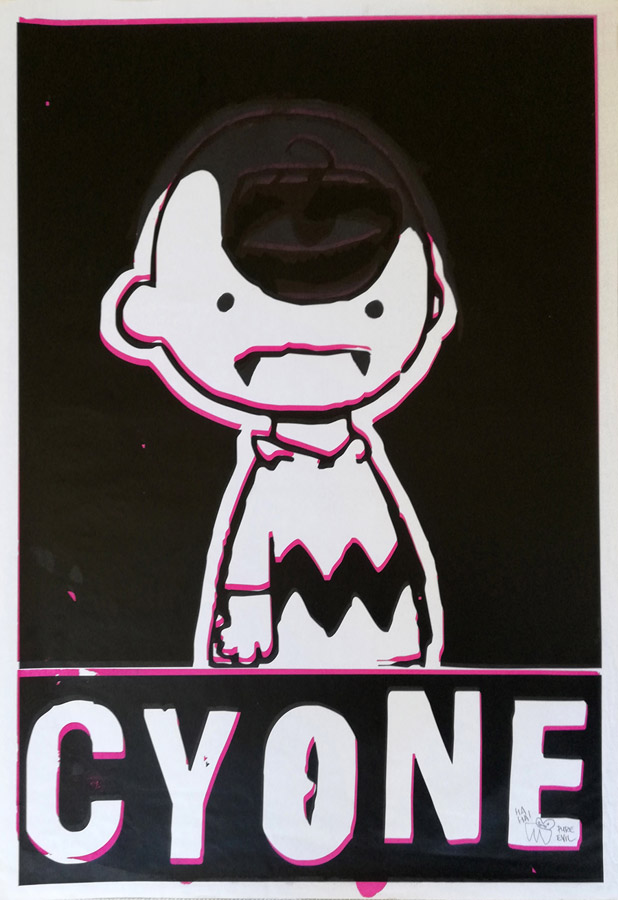 Cyone – Cyclops & Pure Evil 
Screenprint
Unique collaboration between the artists
76 x 57 cm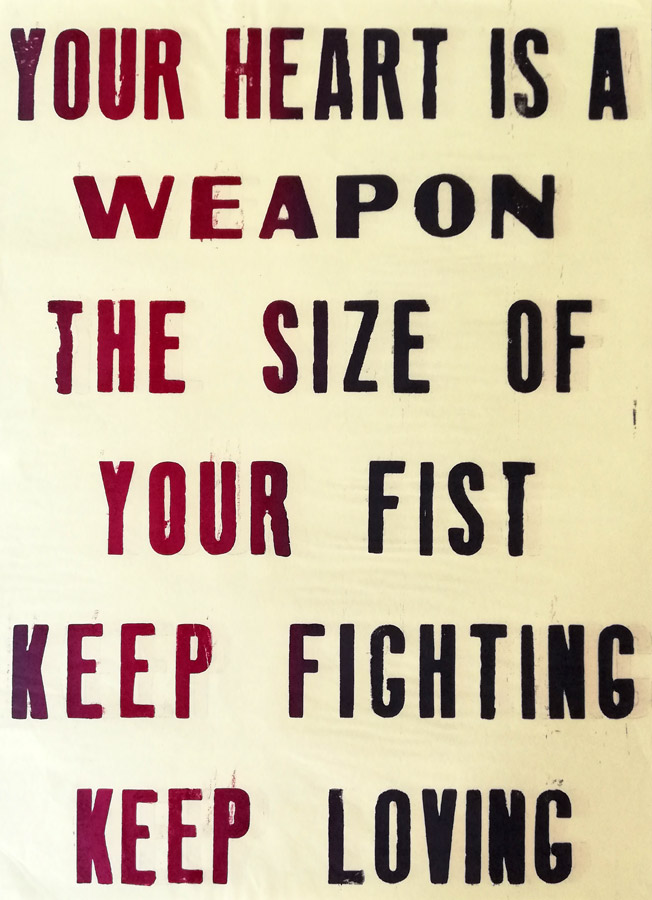 Your heart is a weapon the size of your fist – Pure Evil
Letter press on paper
66 x 48 cm
One sheet of a two sheet poster (1)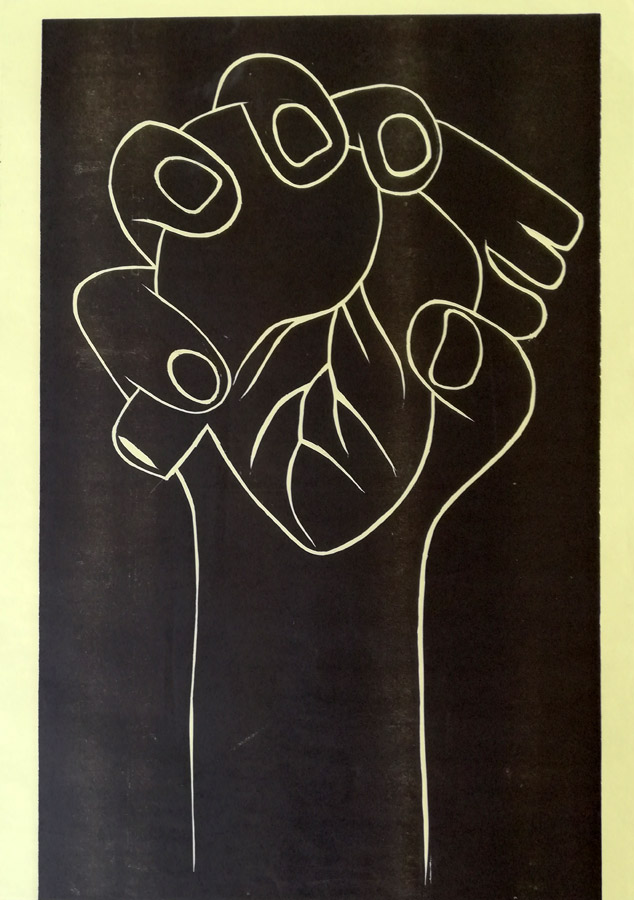 Your heart is a weapon the size of your fist – Pure Evil
Letter press on paper
66 x 48 cm
One sheet of a two sheet poster (2)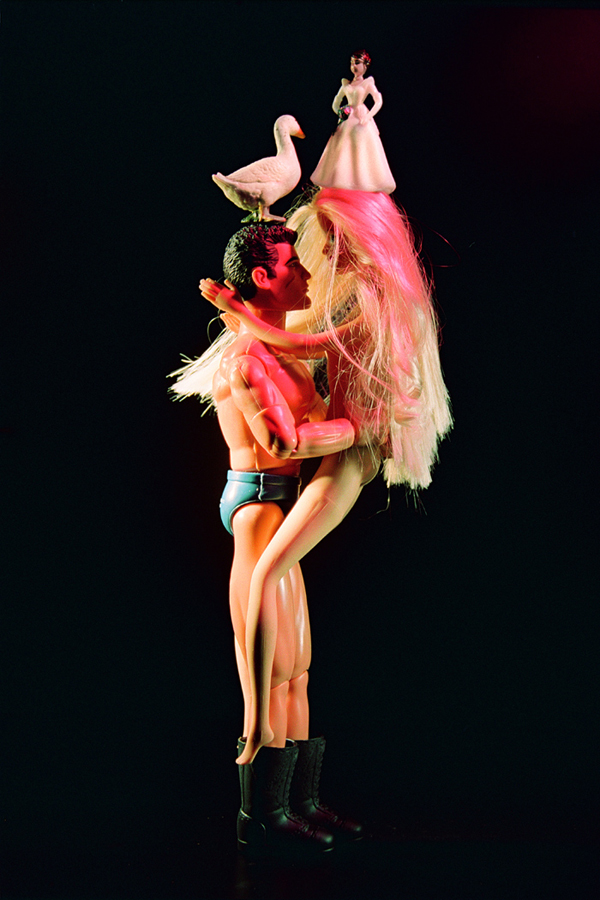 Scene from "Adios or The Lost Moments Tale"
Loula Leventi
Aluminum-mounted photo print
75 x 50 cm
Loula Leventi's surrealistic photographic tableaus are a perfect match for me any given day. Her flair for using toys & random props and masterfully turning them to emotionally charged, captivating narratives is unmatched between Greek artists. The AK collection simply couldn't afford to be without one of her Barbie artworks.
I am pretty certain this painting by Karolina is the first work of art I actually bought.
The naive art of the famous Mykonian character is treasured by cosmopolitans the world over and can be found in important international collections. It goes without saying that it has a special place in my collection.
At Filippis'
Karolina
Markers on canvas
50 × 40 cm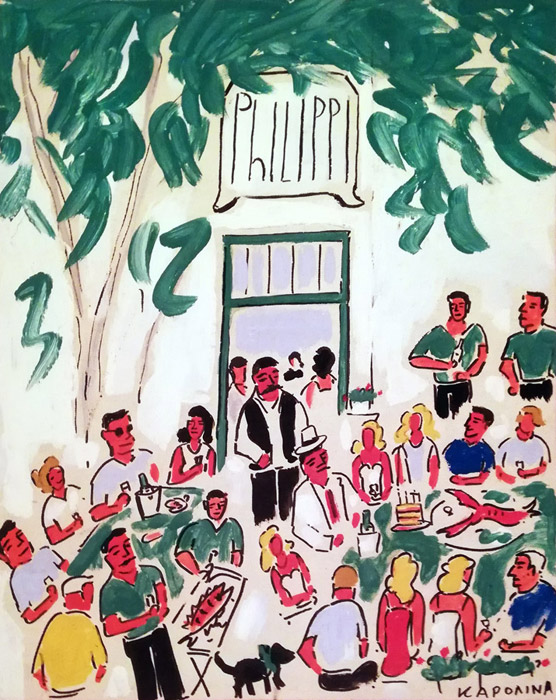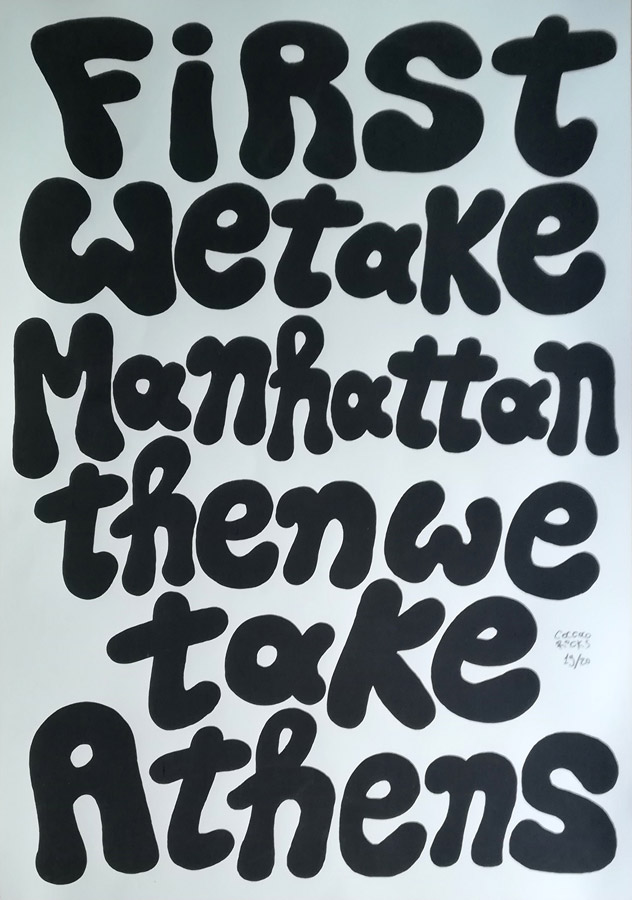 First we take Manhattan then we take Athens
Cacao Rocks
Silk print
Edition 19/20
50 × 35 cm
"First we take Manhattan then we take Athens" indeed and this is one of my favourite Cacao Rocks art. Subscribing to a super-minimal aesthetic, far distanced from the thriving artist's main body of work, this print epitomises his insolent wit and flair for catchiness; at the same time it hits several important angles for me as I love prints, black & white and word art.
"An important sub-category of my collection is Portraits. Of myself. I know it is hopelessly vain and somewhat archaic but I can't help being enthused by them. The sensation of seeing yourself interpreted, in an artist's unique style, is simply thrilling."
     Scribbles 1-4 –  Manolis Zoulakis, Mixed media drawings on various papers. Please note ultra-collectible artwork #3, as drawn on Potami (now defunct political party) ballot.
I discovered Heiko Müller through MySpace (raise your hand if you remember this) and instantly fell in love with his art. To celebrate the world premiere of artAZ (February 2007) I asked Heiko to create a print especially for us; "Lil' Jesus" is the result of this collaboration and despite its highly controversial nature – or perhaps because of it – it was entirely in line with this new way of experiencing art we were introducing at the time. Obviously, I bagged Print #01 for myself. In the meantime, Heiko has gone and become super successful, just as he deserved. A treasured piece.
Lil' Jesus
Heiko Müller
Giglee Print
Edition of 50
40 x 30 cm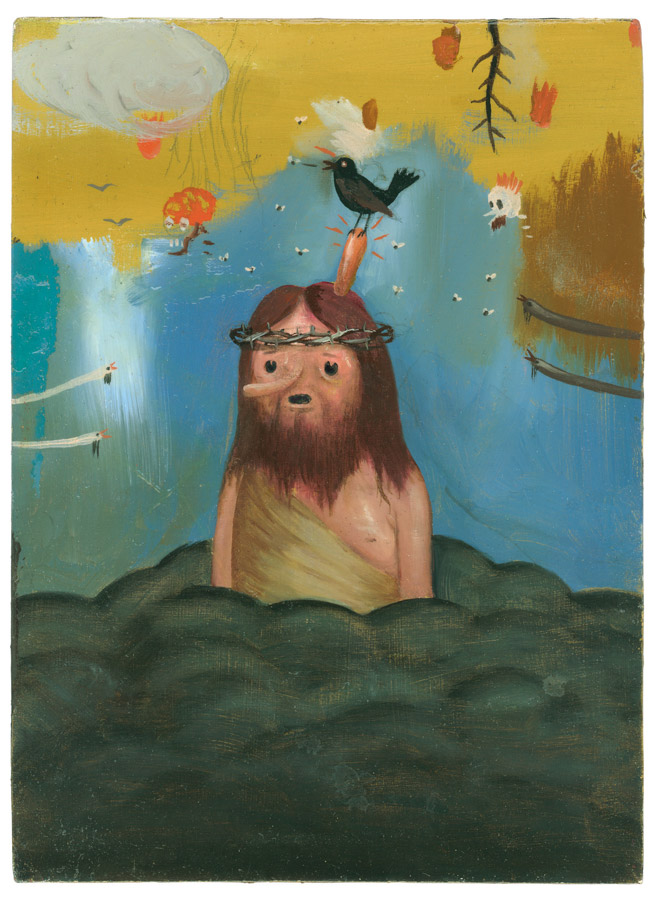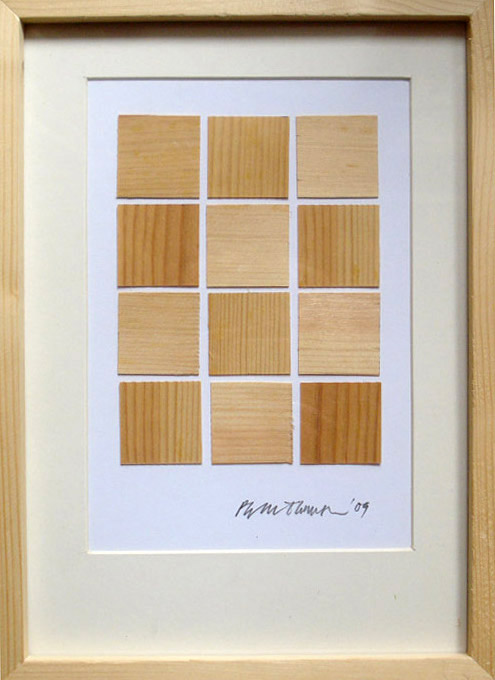 Untitled
Peter Thompson
Plywood on paper
30 × 21 cm
British architect (and dear personal friend) Peter Thompson has an extensive body of work  that directly draws from his architectural perspective. His approach is minimal – in terms of materials, colour and form- yet labour-intensive and elegantly conceptual. His art pieces are precious to me.
Flying Fortress, the German street art pioneer, has visited Greece as a guest artist of the 7ply Skateboard Festival. This skateboard is one of the 2 pieces he presented at the festival's art exhibition. I am thrilled to have it in my collection, with a personal dedication from the artist.
Skateboard
Flying Fortress
Mixed media
80 × 20 cm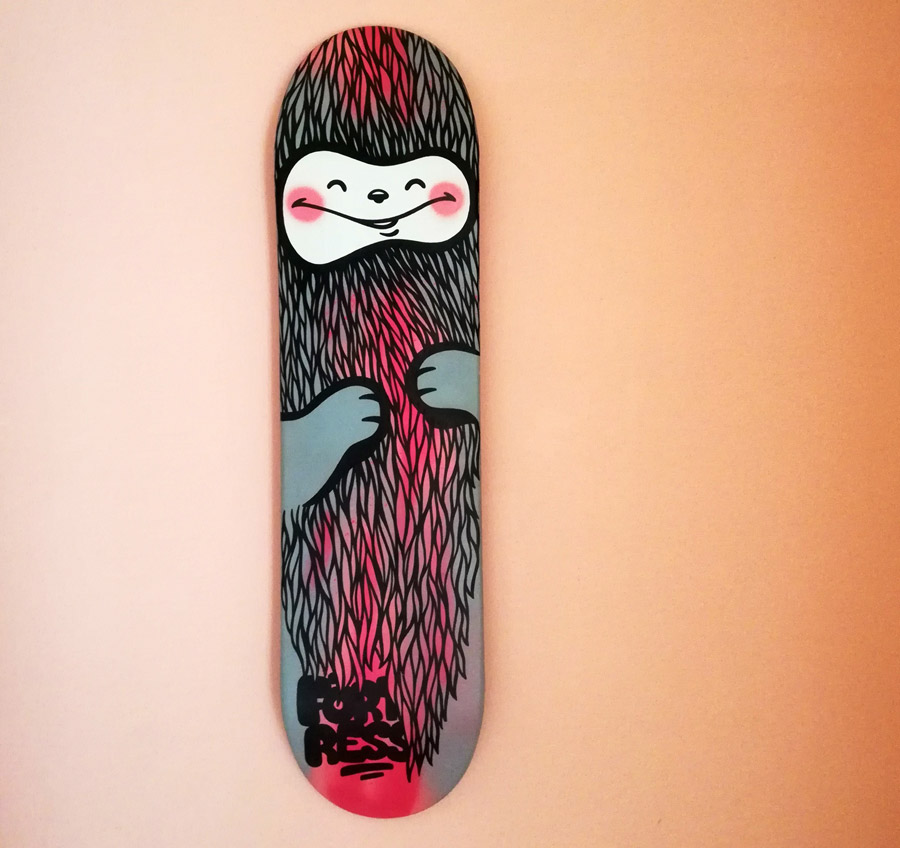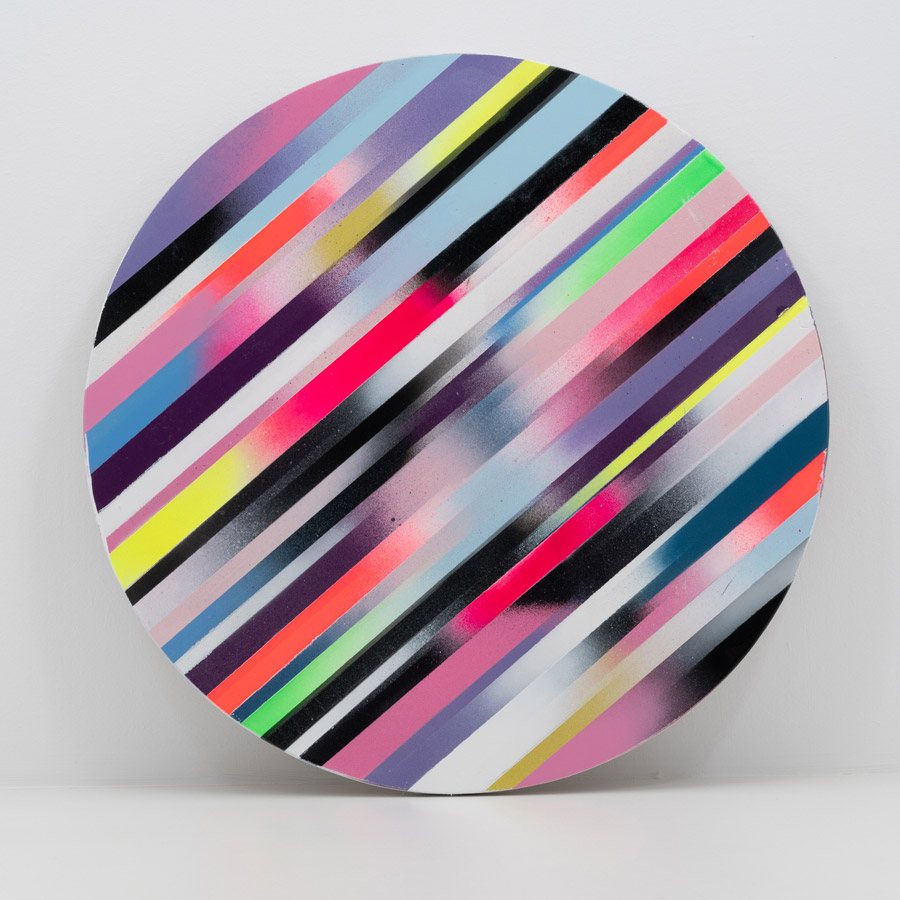 Making Life – Maria Spyraki, Spray & epoxy resin on mdf, Dia: 40 cm. This piece is perfect.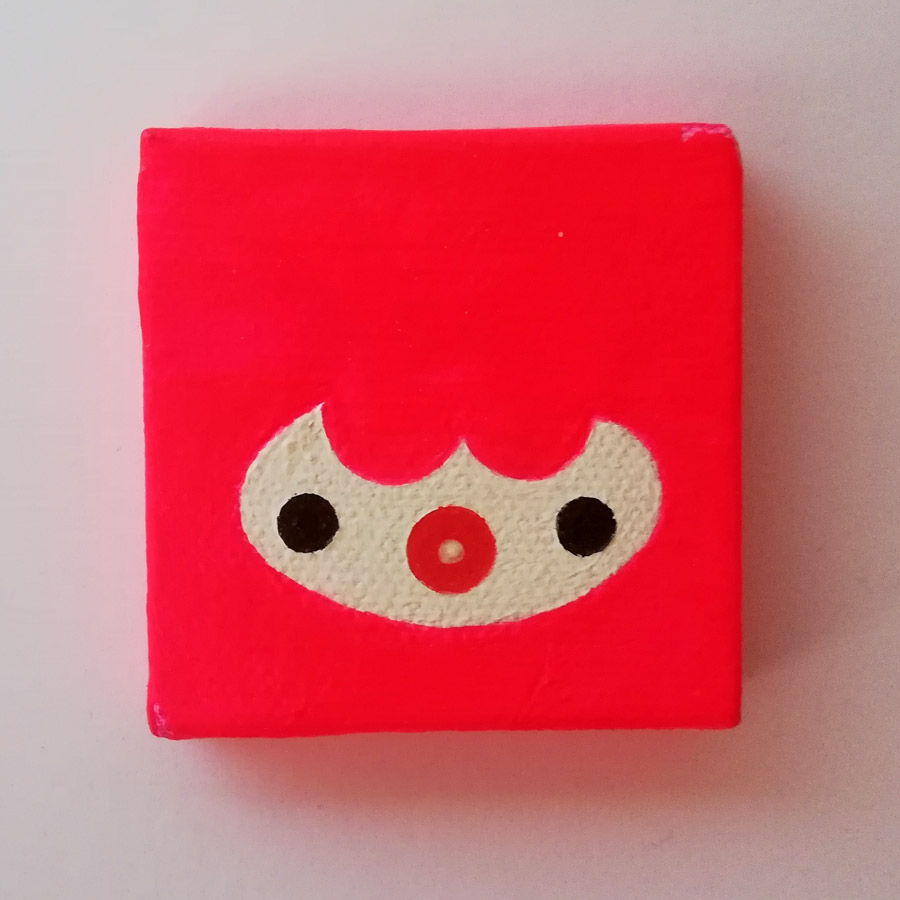 Alex
Mariana Cute
Acrylics on canvas
5 × 5 cm
I LOVE THIS. Mariana Cute creates alternative nano-portraits of people (and pets!). After assessing an individual's personality, she combines her signature style with elements of the character in question, resulting in an extra precious, ultra adorable and utterly unique micro artwork. I was honoured to be one of her first experiments. You may not immediately see the resemblance but look again!
This one is a gift from a gallerist friend. Dimitris Milionis is one of the Greek artists I deeply respect. There are several characteristics that render him special but, apart from his rich and diverse oeuvre, I appreciate his sensitivity and devotion to the artistic profession per se, and his constant championing of the younger generation of art professionals. Having his works in my collection is both a pleasure and an honour.
Untitled 
Giants series
Dimitris Milionis
Silkscreen
20 × 20 cm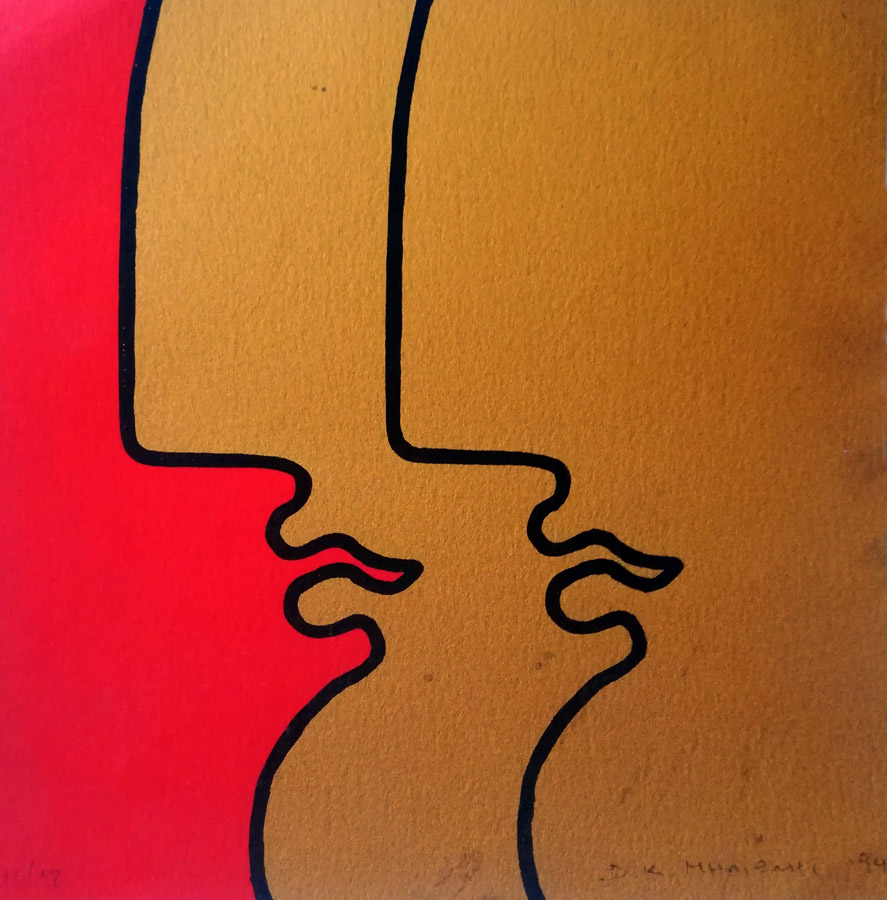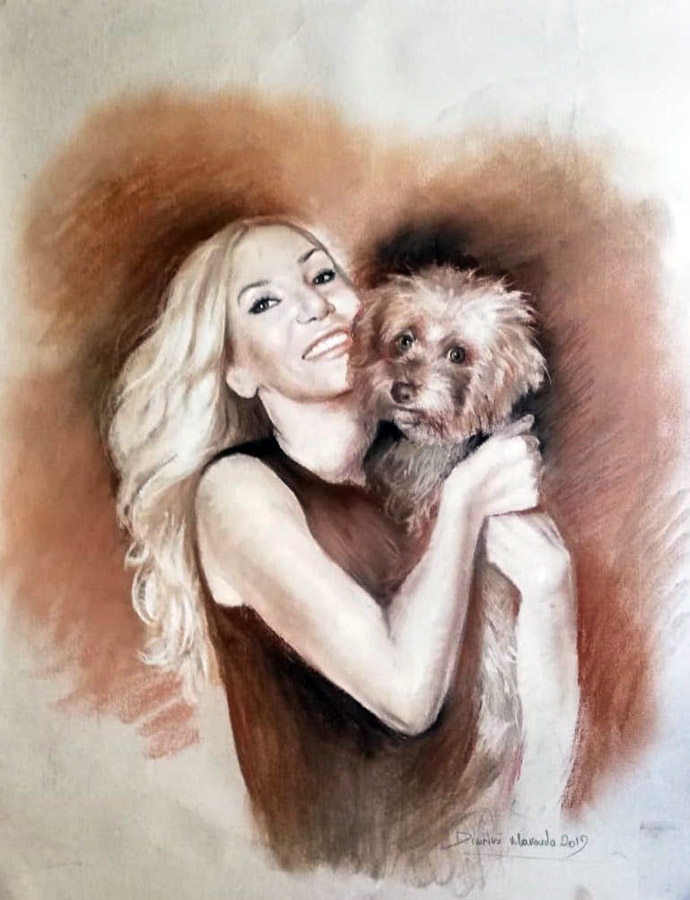 Alexandra & Kaya
Dimitra Marouda
Dry pastel on paper
70 × 50 cm
It is only fair to wrap up the collection's premiere with another precious portrait: the double one of me and Kaya (the family's youngest member & notorious art lover) by Dimitra Marouda. Far removed from the artist's core style, this has been especially painted as a gift to me, to immortalise an important moment in time. It goes without saying that I hold this artwork dear.
I like making the world more beautiful, one artwork at a time.
"The vast majority of the collection involves Urban & Street Art works (I use these definitions for reference only as I don't believe they fully serve the purpose), which is also the type of art I specialise in as a professional. However, I collect works I like, period – they don't need to subscribe to a rigid aesthetic or art genre.The passion for appreciating these works feeds the passion for promoting them, and vice versa, so I remain in a perpetual state of excitement."