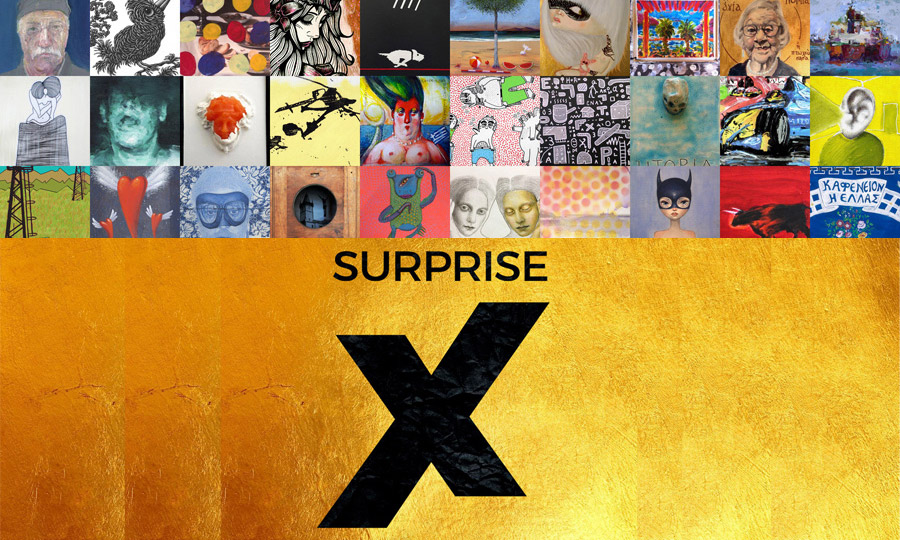 10 Years of Making the World a Better Place through Art
SURPRISE, artAZ's benefit art campaign for the homeless of Greece is turning 10 this year! A decade of fighting adversity with art, using its magic to bring positive change.
I couldn't be happier that we made it this far.
We are calling this edition SURPRISE X – The Ultimate Surprise because that's what we hope it will be but also because it is going to be the last one. It has gone full circle. With that in mind, many "surprises" are in store for you.
WHAT DO I WANT YOU TO DO?

If you are an artist, I want you to right now contact me and tell me you will donate an artwork to the show. Or you can submit directly at info@artaz.gr.
There is still time – we are accepting works through to the last minute.
If you are a non-artist join our mailing list now. You will receive an e-mail alert when the pre-sale begins so you have a better chance to actually get your first choice works.
You can also visit at the exhibition premises and pick up your art of choice directly. In fact, if in Athens, I look forward to welcoming you at the opening to celebrate the power of art together.
SURPRISE X will open 11 October 2019, at 20:00, at the new premises of The Project Gallery in Athens.
P.S.: You can view the artworks of SURPRISE X HERE and the artworks of the Silent Auction HERE.