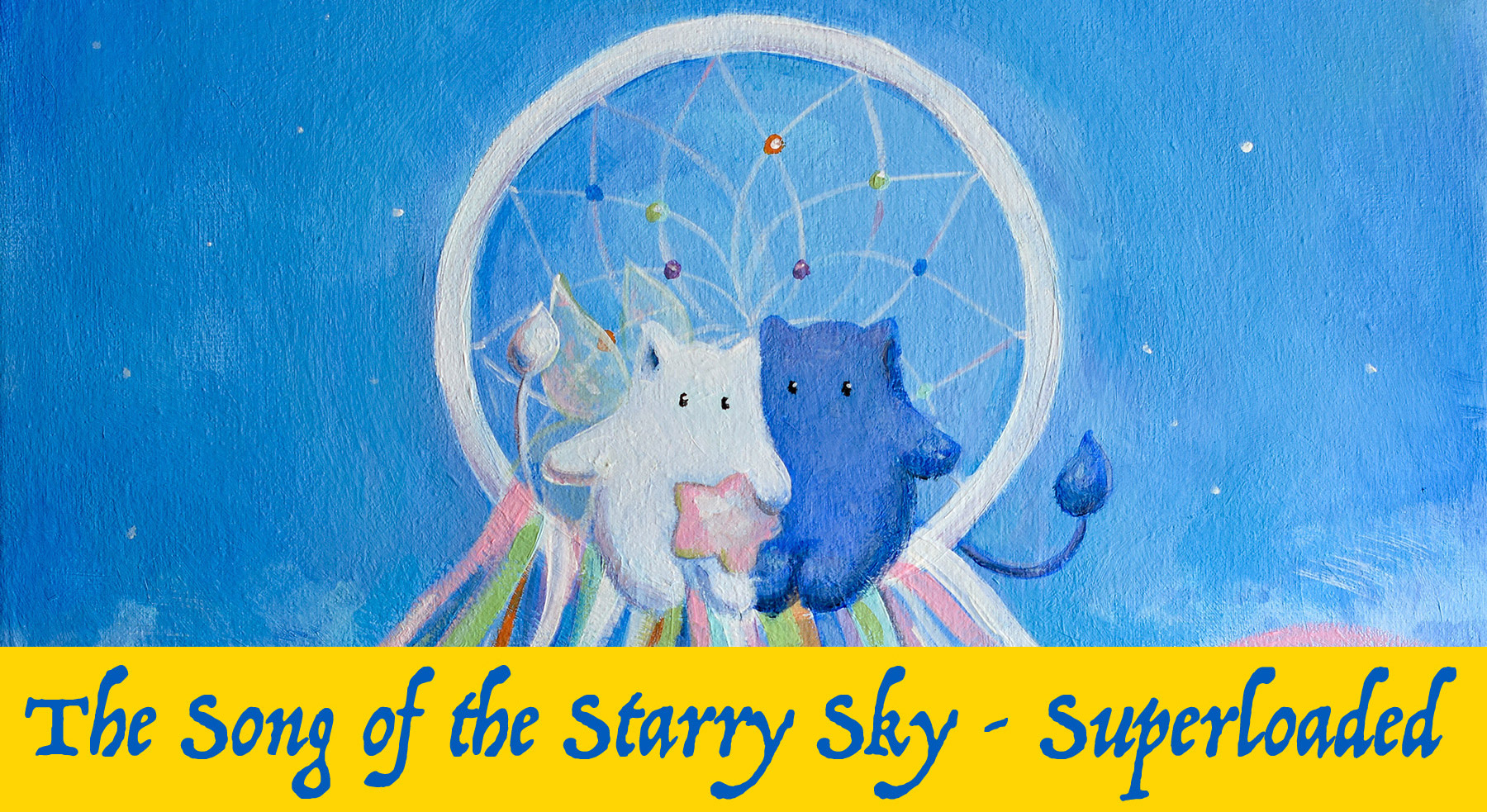 a solo exhibition by Ukrainian artist Olya Yatsenko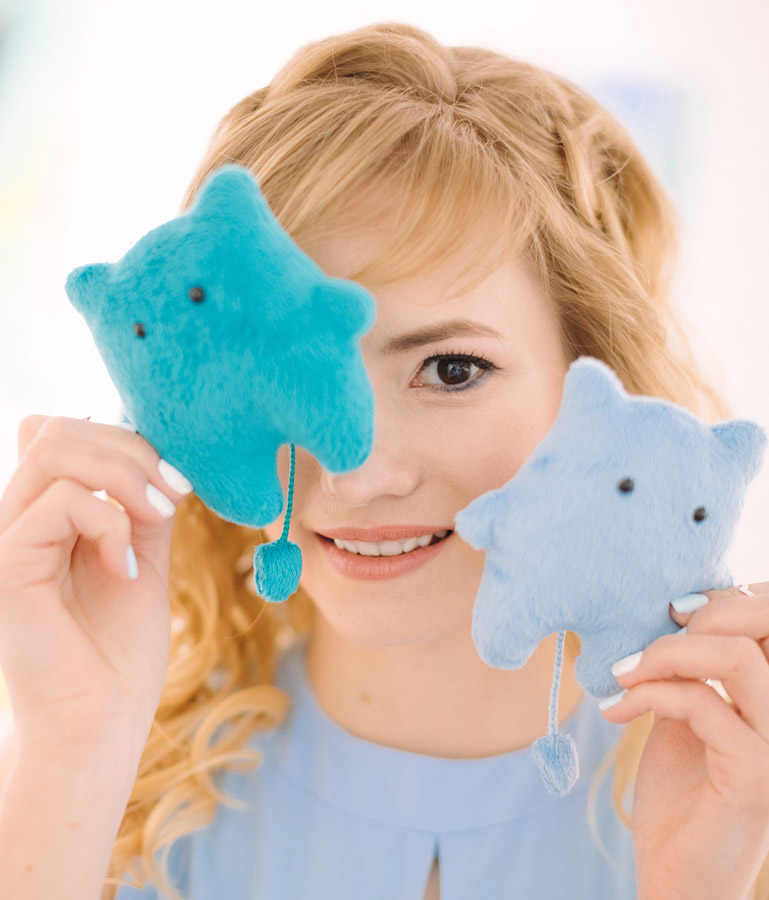 Olya Yatsenko's exhibition "The Song of a Starry Sky" was on show at Книжковий "Сяйво книги" in Kyiv and interrupted by the Russian invasion of Ukraine. I reached out and asked to "move" the show online for the world to see, as a symbolic gesture of solidarity and support but mostly, to highlight the uniting power of art. Art is a weapon of love. Olya's work is about positivity, peace and kindness. This is the only answer at a time like this.
We both worked against the clock, somewhat rushing things, to organize this as fast as we could, not knowing what the next moment would bring. We decided it was the best way to go under the circumstances. "Every minute we are at high risk of danger. Everything is unclear now." says Olya.
The artist wishes to donate proceeds from the show's sales to support her country.
We call this reincarnation of the show "Superloaded" to emphasise its dynamic spirit.
This exhibition is a message of peace, love and unity. 
Alexandra Kollaros, Curator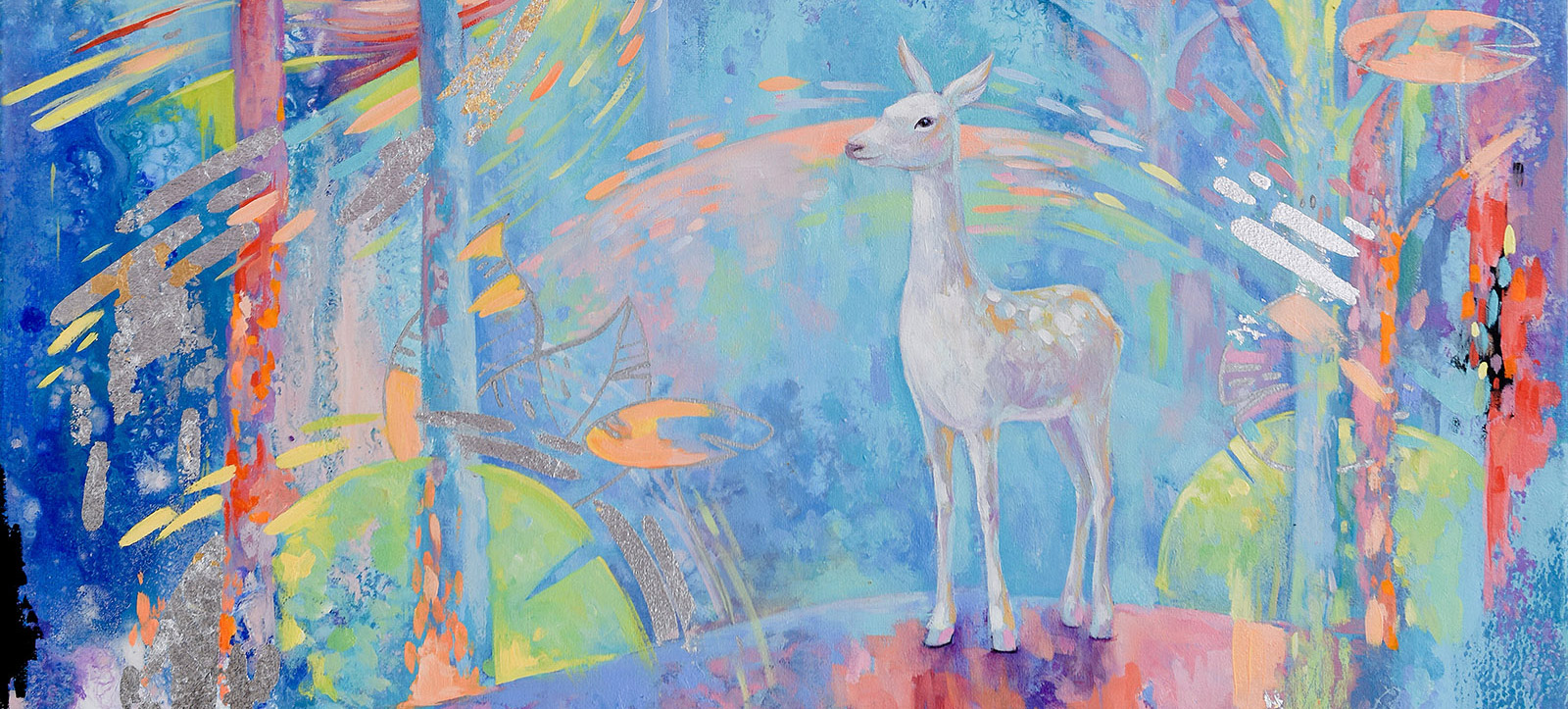 The Song of the Starry Sky
The sky changes its colors, silhouettes and the direction of the wind.
The sky space creates and preserves stories about which a song can be written.
And every time it will be a new and unique one.
"The song of a Starry Sky" wants to share a little secret with us al, that
A SONG LIVES IN ALL OF US.
The song will flow from the works presented at the exhibition.
You will immerse yourself in a wonderful world full of warmth, harmony and love where stars are like separate planets, on which kind stories take place and colorful flowers cover the ground.
Although the stars are not visible during daytime, every night we can look at the starry sky and remember that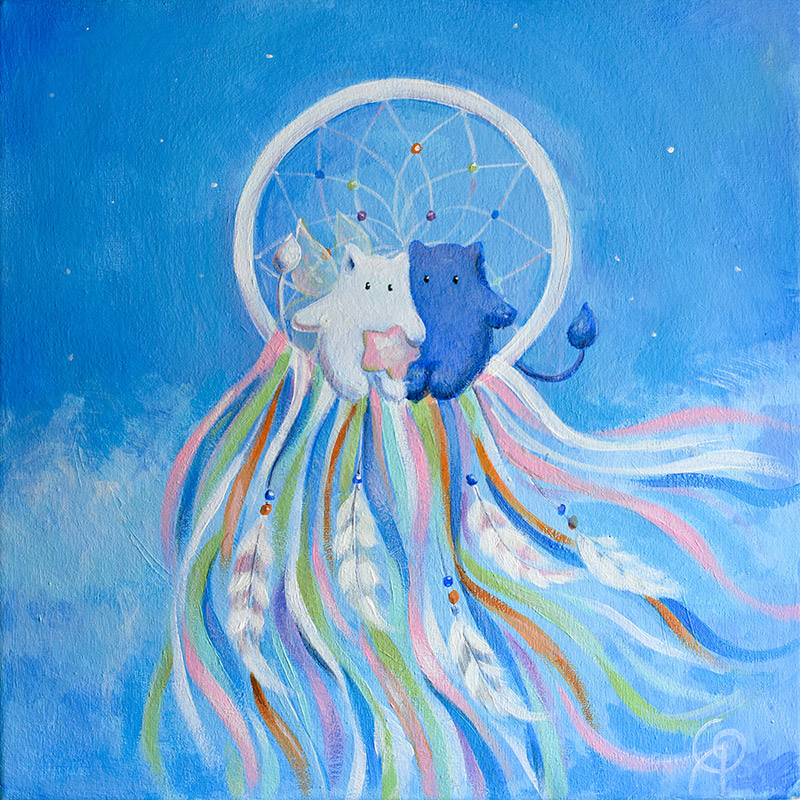 Little Moon DreamCatcher – Acrylic on canvas, 30х30 сm, 150 €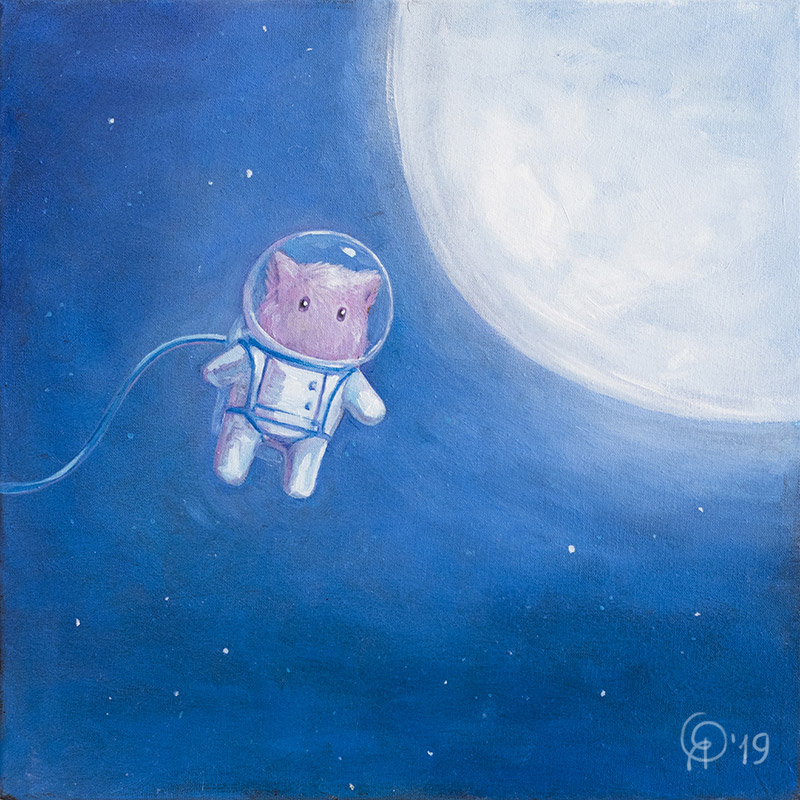 Journey to the Moon – Oil on canvas, 30х30 cm, 250 €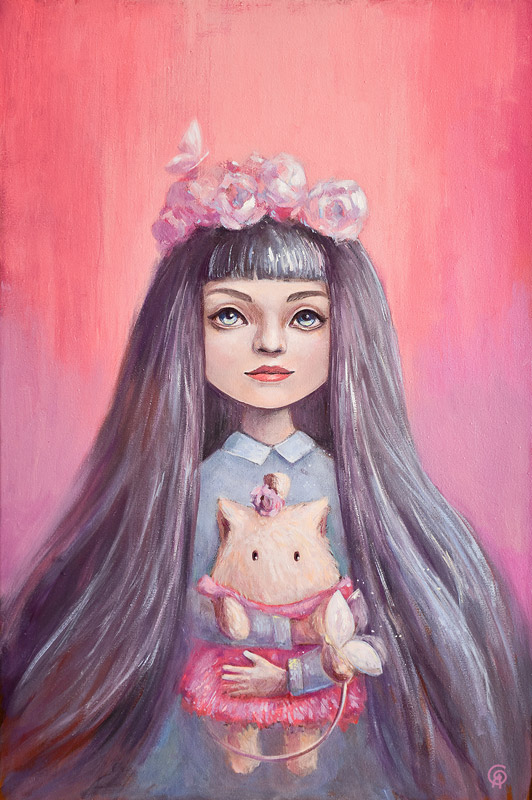 Our Butterflies – Oil on canvas, 60×40 cm, 480 €
The main fluffy characters on the paintings
Cute fluffy characters populate Olya's art; they have sharp ears, shiny eyes and long tails, with a fluffy tassel, like a small comet, which sticks out on a tip. They can talk, but long fur hides their noses and mouths. Who are these characters on the pictures? They are called Poohnastyks! They vary in color and size. Some of them have magic wings and can fly. They can talk, and people – children in particular – who believe in miracles and good deeds can see them. They fly to Earth at night, like falling stars, from the city which is hidden among the clouds, where all the Poohnastiks live.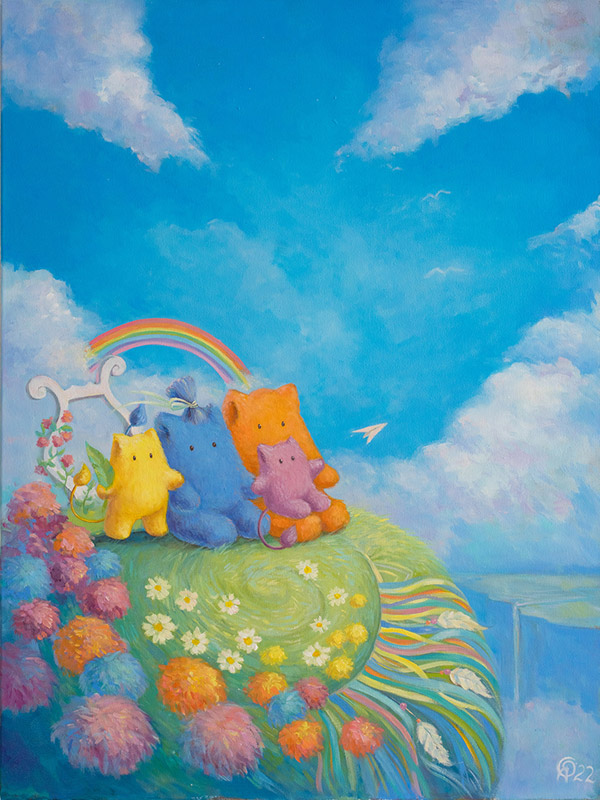 The Rainbow of our Planet
Oil on canvas
80×60 cm
750 €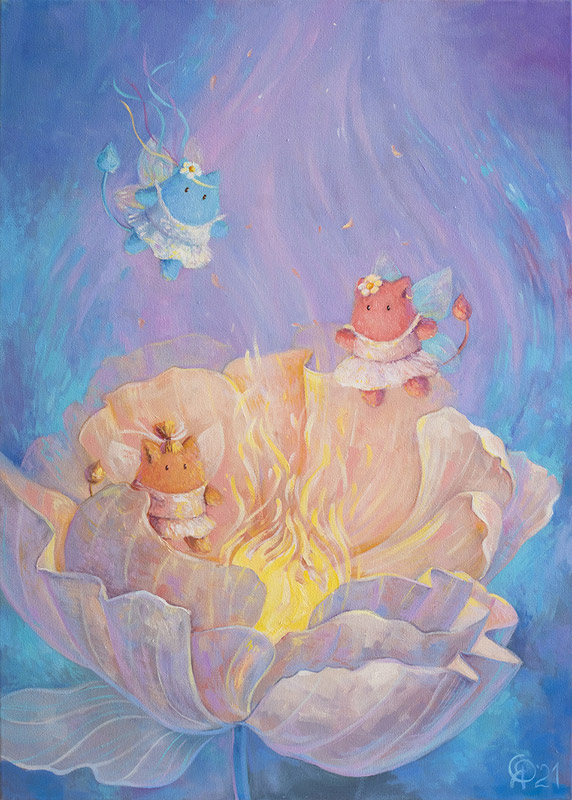 Poohnastyk and the Magic Fire
Oil on canvas
70×50 cm
650 €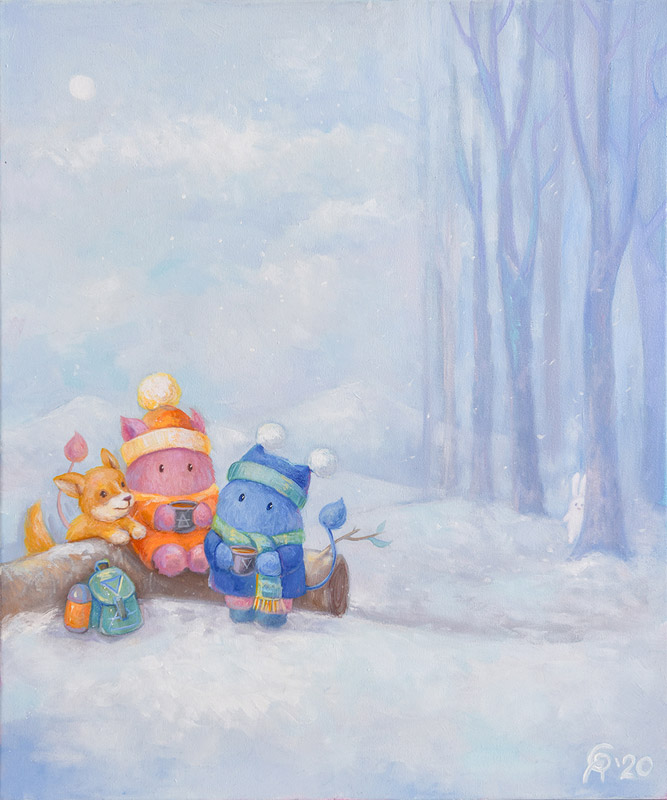 Poohnastyks. The First Snow
Oil on canvas
60×50 cm
600 €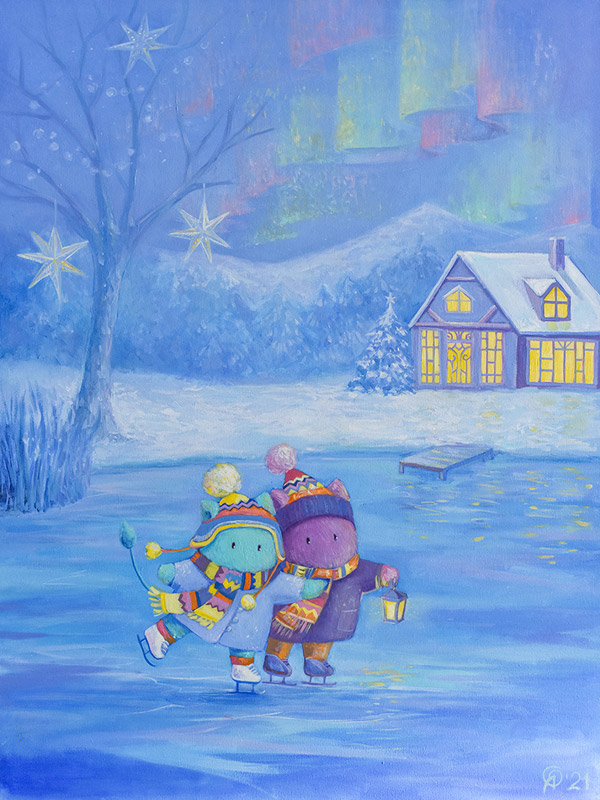 In Search of the Northern Lights
Oil on canvas
80×60 cm
750 €
Poohnastyk for Olya is a common image, which represents something that lives inside every person. They started to form in 2008, when she came up with the idea to create a character, which would be simple, clear, cute and kind. Someone whose existence could help us all, children and adults alike.
Poohnastyks' mission is to generate positive and kind emotions in people and help them overcome bad things that are abundant around us.
«Through my art I'm saying that it is very important to enjoy every moment of our life and appreciate what we have»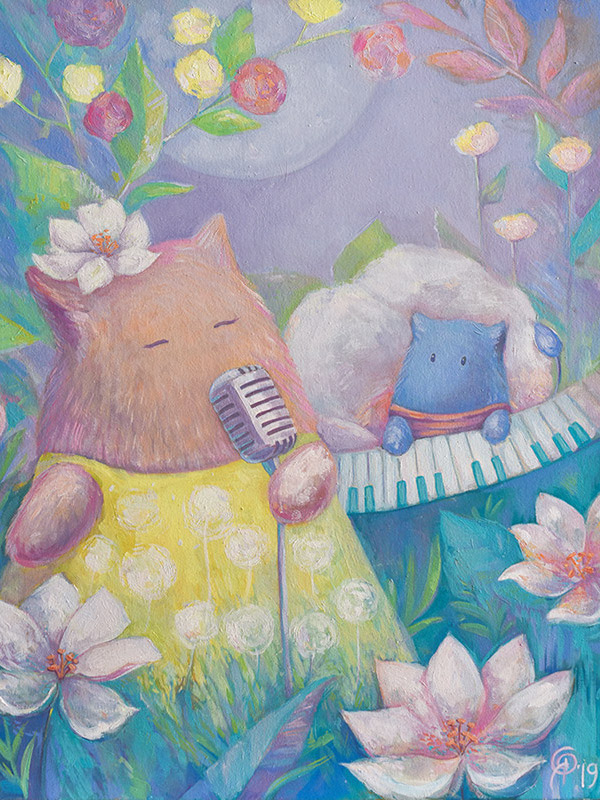 Song
Oil on canvas
60×50 cm
500 €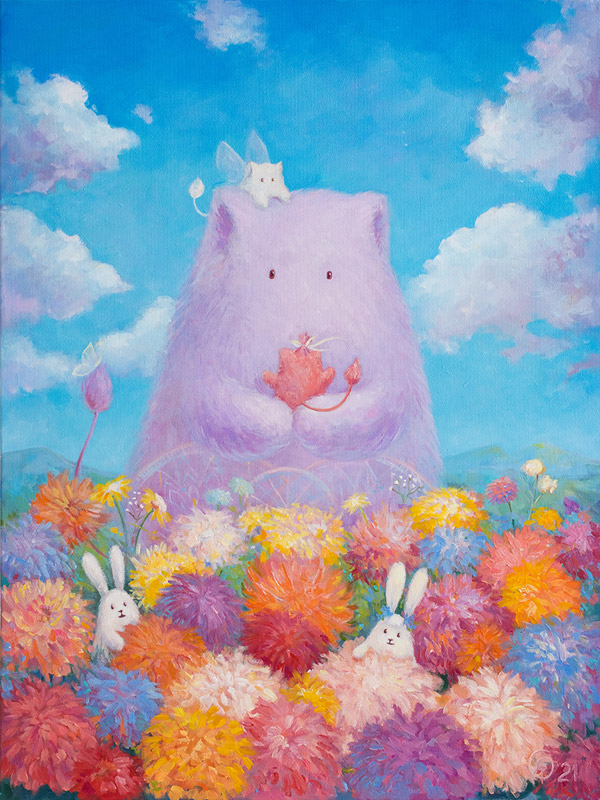 Poohnastyks and the Field of October Chrysanthemums
Oil on canvas
80×60 cm
780 €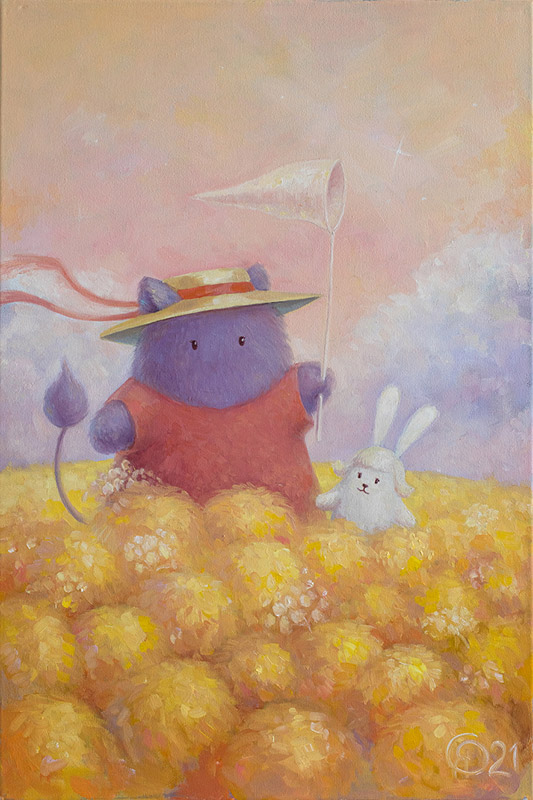 Poohnastyk and Dandelions
Oil on canvas
60×40 cm
420 €
«I paint magic worlds that are filled with their own deep sense»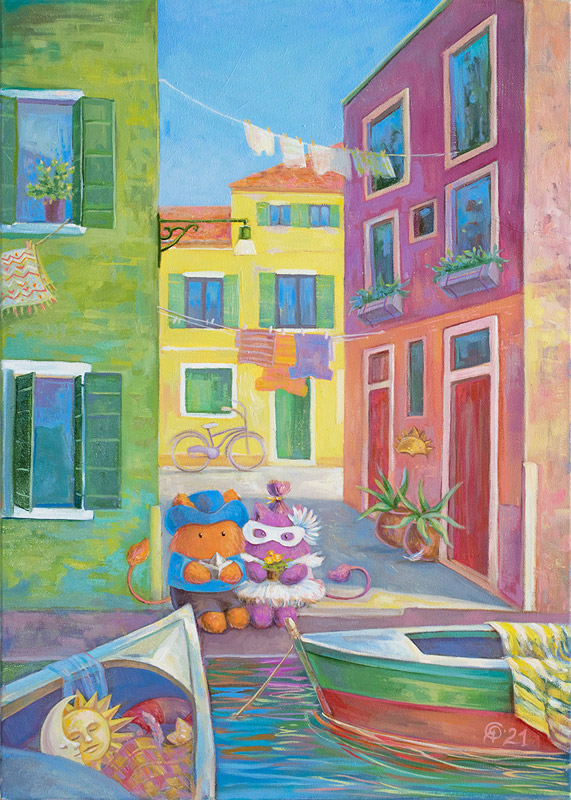 Morning in Venice
Oil on canvas
70×50 cm
650 €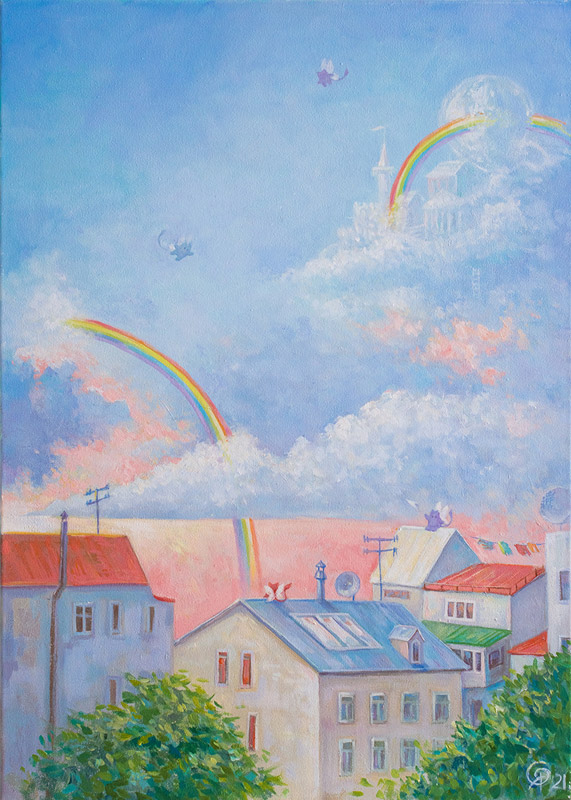 The sky after the rain
Oil on canvas
70×50 cm
650 €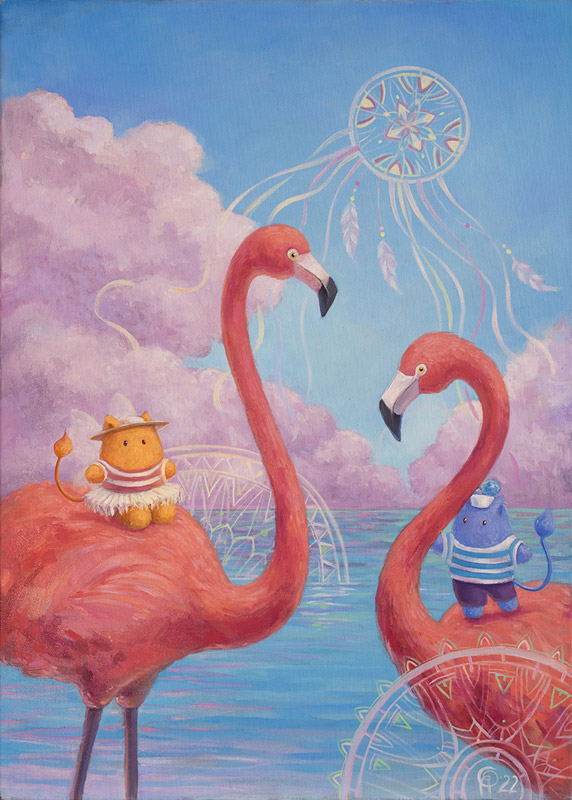 Flamingos. Sea
Oil on canvas
70×50 cm
600 €
The White Doe
Oil, acrylic & potal on canvas
100×70 cm
1200 €
«I believe that art has a great power to make this world a better place»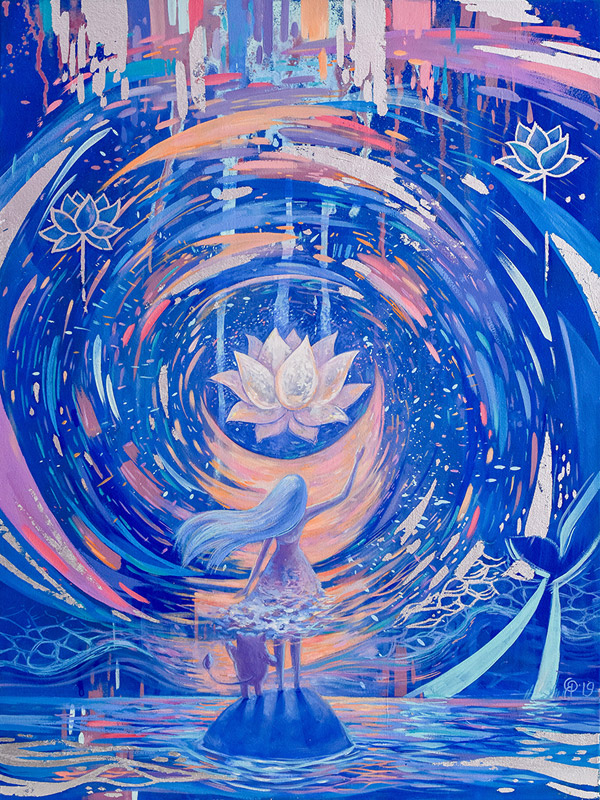 Creation of the Universe
Oil, acrylic, silver & potal on canvas
80х60 cm
800 €
The Silence of the Starry Sky
Oil on canvas
70х50 cm
800 €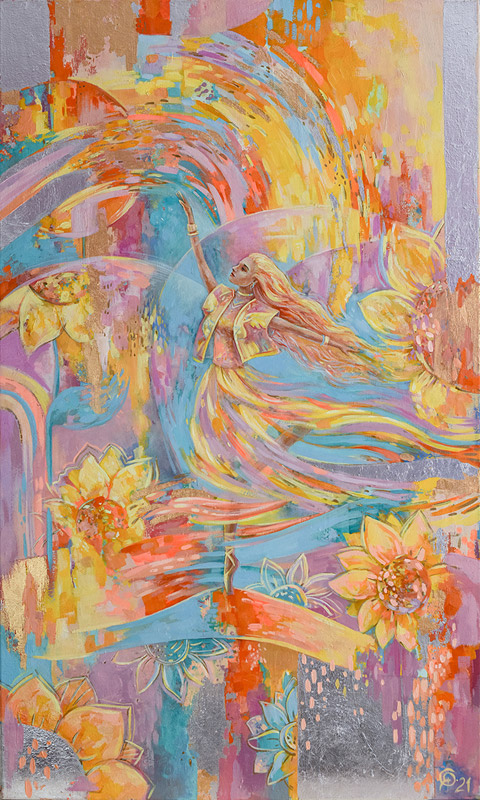 August
Oil, acrylic, silver & potal on canvas
100×60 cm
1200 €
Maybe somebody recognizes a part of himself in Poohnastyk? Eyes can't see everything – you can just feel it while looking at them. And who knows, maybe at some point you will understand: "Really, it's me!"
Poohnastyk and Summer rain
60х50 cm
Oil on canvas
550 €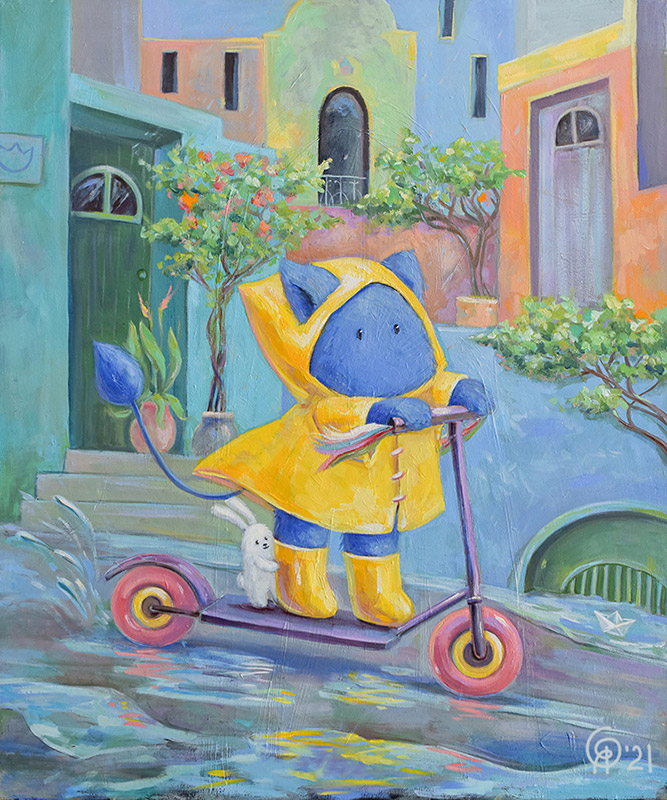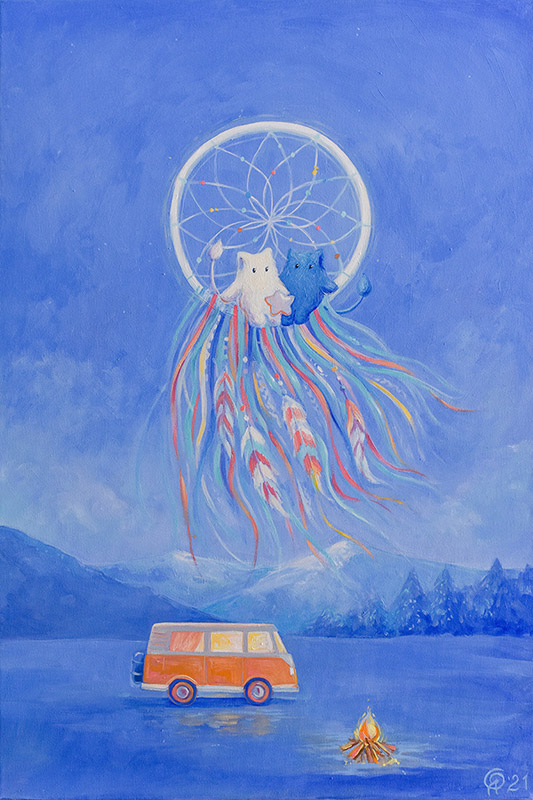 Moon Dream Catcher
Oil on Canvas
60×40 cm
400 €
Lighthouse among the Clouds
Oil on canvas
30х30 cm
250 €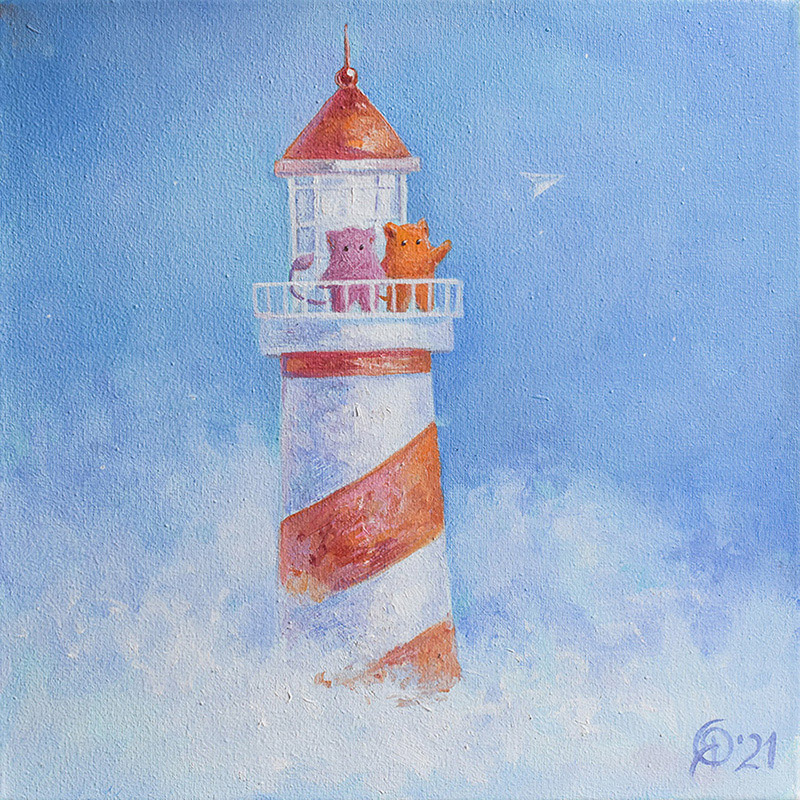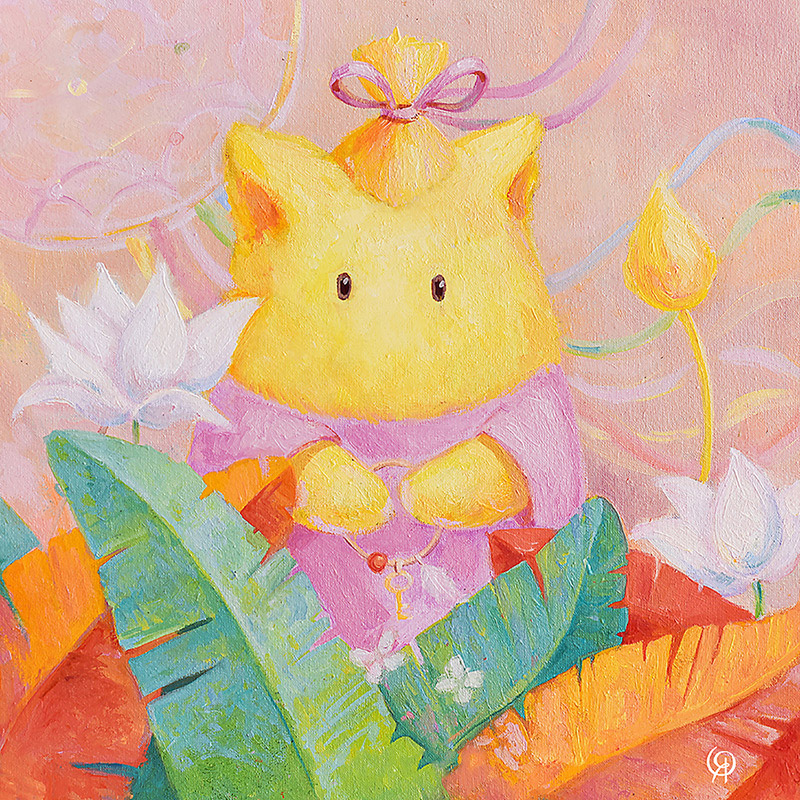 Poohnastyk and Magic Key
Oil on canvas
30х30 cm
250 €
My floral silence
Oil on canvas
30х30 cm
250 €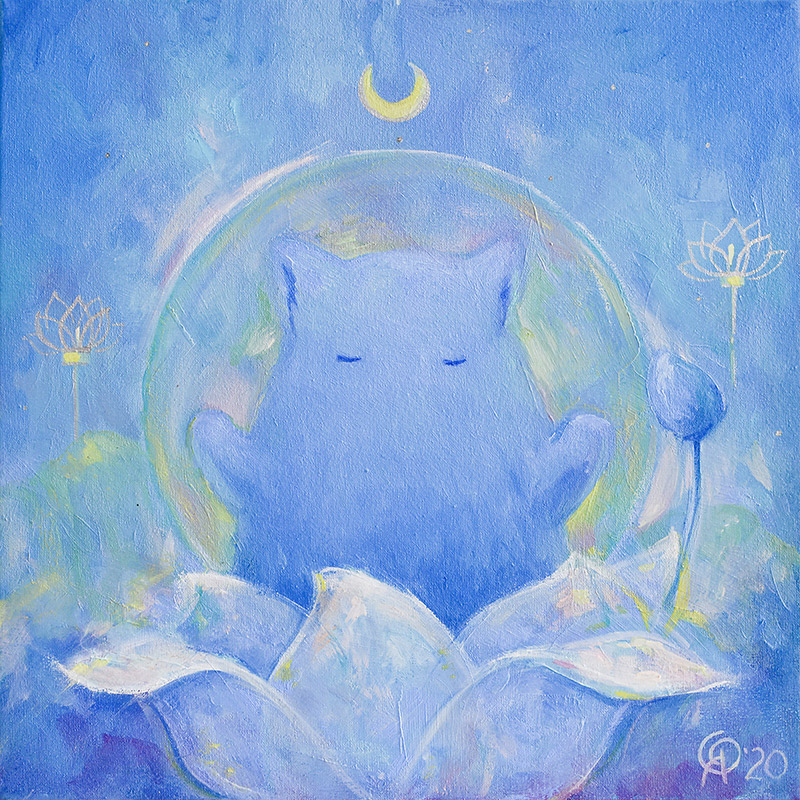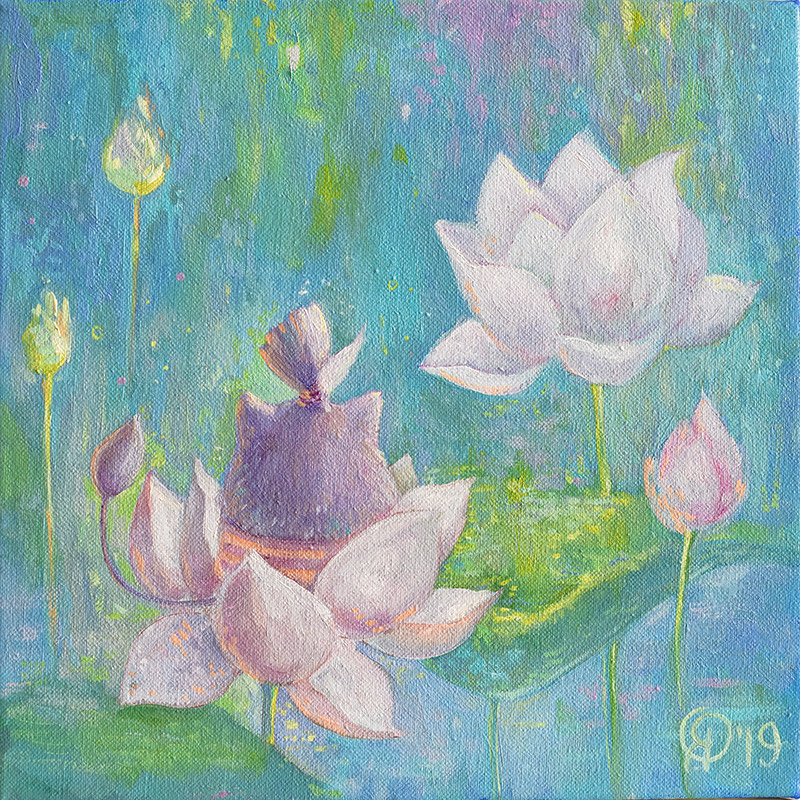 Magic Lotus
Oil on canvas
30х30 cm
250 €
Astrologer
Oil on canvas
30х30 cm
250 €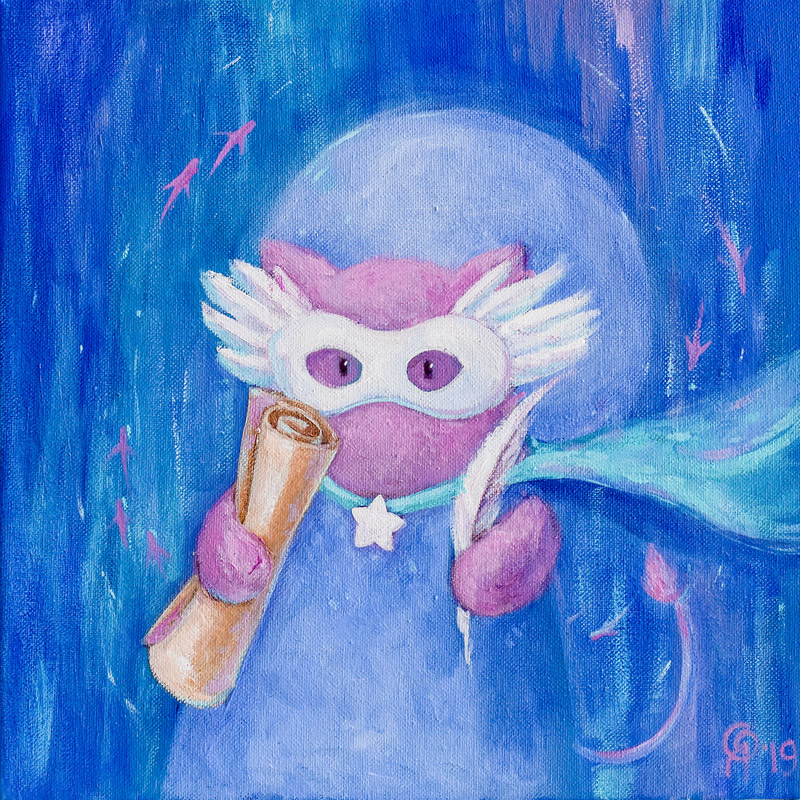 Because of the current untenable situation we don't know exactly when we will be able to deliver the artworks to you but we are working towards finding the best solution.
All prices exclusive of VAT & Tax, where applicable.
«I want to help my country, my army and people. I believe in our victory and independence of Ukraine.
I believe in a peaceful sky above our heads, and I want my people to have a happy future.»
Olya was born in Kyiv, where she lives and works. She graduated from Kyiv National University of Construction and Architecture as an architect and designer. She is an author, artist and illustrator of the books "Night Adventure", "Poohnnastyks, "The storybook" and "Fifth Part of the World". In addition to painting, part of her creative life is devoted to digital illustrations. She creates art for computer games and applications, among them the "Violet" stickers set for Viber. Her characteristic Unicorn illustration has featured on a line of printed Sweatshirts for "New Yorker" clothing (2017). Olya has also drawn illustrations for a set of original children's books for Amazon. Her work belongs to private collections in Ukraine, Poland, Greece, United Arab Emirates, Turkey, Italy, France, Canada.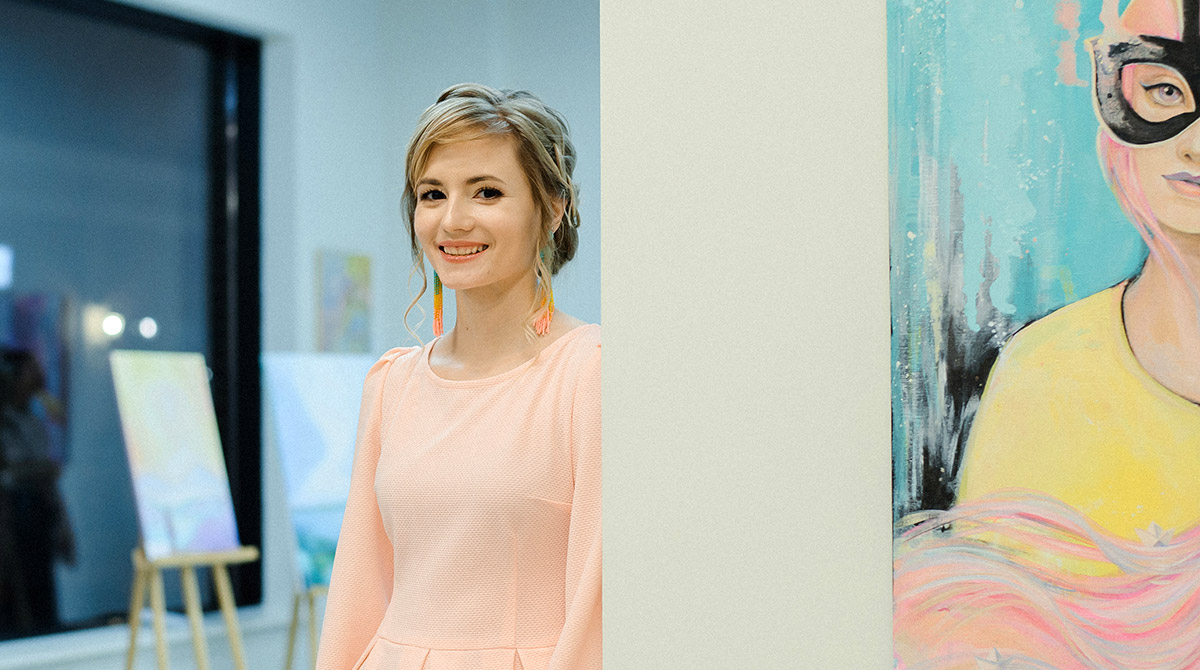 For further information & enquiries regarding the works please contact
info@artaz.gr